Royal Romance: St Andrews students' tribute to Kate and William
The Other Guys have recorded a song and video inspired by Lady Gaga as a unique tribute to the Royal wedding.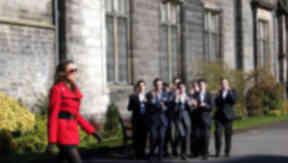 A group of students in St Andrews have become a surprise international internet hit with their unique tribute to the upcoming Royal wedding.
The Other Guys are an a-capella group made up of students from Prince William's university. They have used their talents to sing a re-written Lady Gaga song about Kate Middleton.
Royal Romance tells the story of young men at St Andrews university trying to woo the bride-to-be during her time in the Fife town. Shot over three days in the historic town, it shows iconic locations including the golf course and the street where the Royal couple lived together.
It took the students three weeks to write and record the song and video, which is based on Lady Gaga's Bad Romance.
The video has been watched more than 30,000 times on YouTube in just three days.
Ollie Boesen, the lead singer in the video, said that the main reason behind the video was to have a bit of fun.
He told STV News: "We did it as a group of guys to get our name out there but mainly just to put a smile on people's faces and we are absolutely delighted how many people have seen it, how many people have liked it and the comments that are coming in. It's just been a lot of fun to do."
IN DETAIL