Son pays tribute to father who died in cycling accident
Former youth cycling champion Kyle Yates, whose father John died during a bike event in Perthshire, says he was the driving force behind his own success.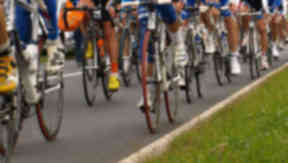 The son of a cyclist who died during an endurance race in Perthshire said his father had never been involved in a crash before.
John Yates, of Lampson Road, Killearn, Stirlingshire, died after falling from his bike while trying to ride 100 miles in eight hours with the Glasgow Nightingale cycling club.
The 50-year-old was travelling with a group of 20 cyclists on the B827 south of the village of Comrie when the accident happened at about 11.50am on Sunday.
It came during an annual organised cycling event from Strathblane into the Stirling and Dunblane area and on to Braco, Comrie and Callander.
Mr Yates was airlifted to the Southern General Hospital in Glasgow, but died from his injuries later in the day. Police said there were no suspicious circumstances.
His son Kyle, 17, who was Scottish champion for endurance racing at under-16 level, said his father had been a driving force behind his success in the sport.
He said: "We got on perfect. I couldn't ask for anything better from a father.
"He helped me get into racing. He used to drive me everywhere for my cycling.
"I'll mainly remember how much we both enjoyed cycling. He was so proud when I was champion. He loved it when I competed outside the UK, in places like Belgium as well.
"He was always supportive, and was just as supportive when I decided recently I wanted to give it up to focus on my career."
"He was always good on his bike and it had been his passion for years. In his cycling club he was one of the best and he'd never crashed before.
"We don't have a clue exactly what happened in the crash. People think there was maybe a coming together of two bikes.
"All I know is that I got a call at work to say there'd been a crash, and got to the hospital. He was unconscious by then though.
"It's just been a blur. I've just got to try and keep it together for my mum."