Bird builds home in ashtray at nature reserve visitor's centre
Blue tit builds its nest in cigarette bin at RSPB nature reserve.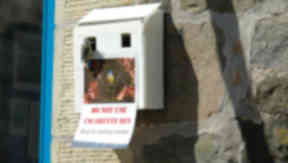 **Smokers visiting the RSPB's Vane Farm nature reserve by Loch Leven are having to stub out their habit after a blue tit built her nest in the ashtray at the entrance to the Visitor Centre. **
The bird has reportedly been ferrying nesting materials taken from the reserve's mossy roof to its unusual nesting box.
Blue tits are famous for setting up home in the unusual of places and previous nesting locations have included traffic lights, traffic cones, gate posts and even a yacht mast.
Vane Farm the female overlooked numerous 'pre-fabricated' nest box homes, which reserve staff had put up to provide additional properties for avian house-hunting birds in the area in favour of the cigarette bin.
RSPB Vane Farm warden Vicky Turnbull said: "Blue tits have a reputation for their choice of unusual nesting sites. Clearly they're versatile birds, ready to exploit areas unwanted by other species."
Staff at the reserve have put up a sign warning visitors not to stub out their butts in the bin due to the nesting tits inside.
The blue tits' new home has undergone some extensive modifications since the bird built its nest inside, with a white reflective covering now surrounding the bin's exterior to prevent the temperatures inside the bin from rising too high for its new occupant.