School's out: Pupils and teachers celebrate end of year with internet-hit flash mob dance routine
The canteen at Bell Baxter High School in Fife was the scene of a flash mob dance routine to mark the end of the year.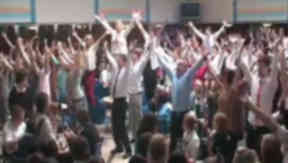 Pupils and teachers at a Fife high school have become an internet sensation after showing off their dancing talents while celebrating the end of the academic year.
Sixth year pupils organised an impromptu flash mob dance routine in the Bell Baxter High School, in Cupar, to mark their last week at the school before going on study leave.
They also managed to get some of their teachers in on the act, which took hundreds of other pupils in the school canteen by surprise last week.
The pupils and teachers performed dances to such hits as YMCA by the Village People, Michael Jackson's Thriller and The Time Warp from the Rocky Horror Picture Show.
School rector Philip Black ended up having a starring role in the flash mob, which was caught on camera by media studies teacher Eddie Gaines.
Mr Black told STV: "I was very happy to do something that the children wanted us to be involved in, it was a fantastic opportunity to promote the school.
"We are one of the biggest schools in Scotland, so we're saying goodbye to around 200 sixth years who are going on study leave.
"It was all their idea and they deserve credit for it. Hopefully it provides some light relief for them at this time of year.
"I think they thought if they could get their grumpy old head teacher involved, it would do a lot of good."
So far videos of the flash mob have had more than 4000 hits on YouTube, while former Bell Baxter students from around the world have got in touch with the school to congratulate the pupils.