Legend of Tay Whale inspires design the size of three football pitches
Dundee festival organisers have unveiled a large image of the Tay Whale, which will greet planes landing and taking off in the city.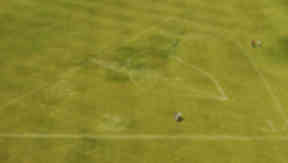 **Planes flying into Dundee will be greeted with the unusual sight of a massive drawing of a whale covering the size of 3 football pitches this summer. **
The giant Tay Whale will be on display for the next three weeks before the grass is cut and the Riverside football pitches are marked out.
It is in the flight-path of the city's airport and will provide a striking image for plane passengers landing and taking off nearby.
Organisers of the city's WestFest are behind the giant design, which is inspired by Dundee's whale hunting heritage.
In 1883 a large humpback whale was hunted and killed when the River Tay was still the UK's main whaling port.
The Tay Whale came to public prominence when it was dissected in public by Sir John Struthers and taken on a tour of the UK.
Now The McManus in Dundee hosts the skeleton while legendary world's worst poet and Dundee native William Topaz McGonagall also penned a poem to the creature called The Famous Tay Whale.
Paola McClure, chairwoman of WestFest, said: "When we noticed the pitches being re-seeded last year we contacted Dundee City Council to find out if we could use the expanse of unmarked grass.
"Once we had explained the idea to them their staff have been exceptionally helpful in making this happen. We have also had the help of access students from Dundee College working with their surveying lecturers pegging out the drawing, which was then marked on to the grass using the white line marker they use for the pitches.
"Tayside Aviation has been very kind to us giving us a free flight to let us see what it looks like from the air." Dundee's WestFest is running from the June 13 to 19 in the city and will conclude with an attempt to break the world record for the largest piggyback race.
For more information on the festival click here.