Day of the Dundead: Scots city confirms it is not under threat from zombie apocalypse
Dundee City Council said it would draw up 'specific plans' should it be overrun by zombies and vampires.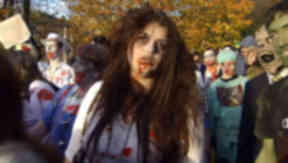 A Scottish city has revealed that it is not currently under threat from zombies or vampires trying to invade it.
A freedom of information request from a member of the public has resulted in Dundee City Council confirming that should Tayside see such horrors it would create "specific plans" to deal with them.
Lee McAulay asked the council what measures it has in place should a "national emergency" involving the undead be declared in the city.
He asked the council: "Could you please share with me the provisions you have in place in the event of a zombie invasion?" and "Could you please share with me the provisions you have in place in the event of vampires overrunning the city, bringing humanity to the brink of extinction?"
Mr McAulay concluded his tongue-in-cheek request by saying that horror films have consistently shown that preparation is everything when it comes to dealing with hordes of reanimated corpses hungry for human flesh.
He wrote: "Having watched several films, it has become clear to me that preparation for such events is poor and one that councils throughout the country must prepare for. Being prepared for such events is key to our future survival. Please provide any information you may have."
Unlike several English councils who have refused to respond to similar requests, Dundee City Council displayed its humorous side by getting back to the 'concerned' resident.
The council's legal manager, Roger Mennie, responded by saying it adopts "a risk-based approach to planning for the impacts of potential hazards" especially regarding "credible worst case scenarios" in the Tayside area.
He continued: "Based on current assessments, I can assure you that the threat of a zombie invasion or vampires overrunning the city of Dundee have not been identified as threats or hazards that are present within the Tayside area and therefore do not require specific emergency plans.
"I would like to further reassure you that should evidence become available to suggest that these could be potential threats then we will consider augmenting our generic arrangements with specific plans."
The freedom of information request came to light after it was recently published on the WhatDoTheyKnow website.