Charity skydiver plunges 3500ft after both parachutes fail
Zoe Sievwright, 29, thought she was 'going to die' but got away with a broken ankle after the miracle jump in Perthshire.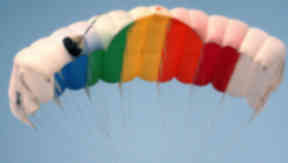 A skydiver plunged 3500ft to the ground after both her parachutes failed - and only suffered a broken ankle.
Zoe Sievwright, 29, said she thought she was "going to die" after her main chute failed and her reserve got tangled on opening.
She was eventually found more than a mile and a half from the drop zone at Strathallan airfield in Perthshire.
Zoe, from Dundee, had joined the jump on Saturday, July 30, in memory of brain tumour victim Cheryl Button.
She said: "You go into an arch and I started counting - 1000, 2000, 3000, 4000 - and then I checked my canopy.
"I had to cut away and then I pulled my reserve parachute. When I looked back up, I could see the reserve parachute had got tangled up in the main one.
"I didn't think I was going to make it - I thought I was dead. I braced for impact and I don't really remember what happened after that. There was a bit of shock but I didn't black out.
"I was just lying on the ground and I kind of nudged myself into the recovery position and waited."
Zoe also suffered minor back injuries and was taken to Dundee's Ninewells Hospital.
Her tangled chutes actually slowed her descent down just enough for her to survive the terrifying drop.
Skydive Strathallan boss Kieran Brady last night insisted there was not a problem with their parachutes.
She said: "The reserve parachute opened successfully but Zoe didn't remove the steering toggles and flare the canopy. That would have allowed her to land."