Students 'called Jewish colleague a terrorist and violated Israeli flag'
Two St Andrews University students are on trial for racially abusing an exchange student from the US in a drunken outburst.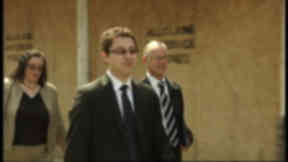 Two drunken students burst into a Jewish colleague's room and called him a "terrorist" before violating his Israeli flag, a court has been told.
Samuel Colchester, 20, and 19-year-old Paul Donnachie are on trial for racially abusing Chanan Reitblat at their St Andrews University halls.
Cupar Sheriff Court heard that following the incident the pair went on to bombard Mr Reitblat, a 21-year-old chemistry student on exchange from the all-Jewish Yeshiva University in New York, with offensive messages on Facebook.
Mr Reitblat told the court that the incident began shortly after his room-mate, Matt Cunningham, came home drunk to the halls of residence in Links Crescent on the evening of March 12.
Half an hour later Colchester and Donnachie arrived to check up on Mr Cunningham and spotted Mr Reitblat's Israeli flag hanging over his bed.
Mr Reitblat said the flag had been a gift from his brother, who served in the Israeli Defence Force, about eight years ago.
He said: "Paul noticed the flag and said 'Israel is a terrorist state' and that the flag was a 'terrorist symbol'. He then said I was a terrorist.
"Paul then unbuckled his trousers, put his hand down there, ripped out some pubic hair then wiped his hand on my flag. Sam did the same.
"I was shocked and tried to get them to leave. Paul went outside and was yelling but Sam stopped and urinated in my sink and on my property."
Mr Reitblat said the following afternoon he logged on to Facebook to find a series of posts by Donnachie branding him a "zionist" and proclaiming "victory to the Intifada".
He said: "The Intifada is the targeted killing of Israeli civilians by terrorists in the West Bank and Gaza. I found that to be very threatening."
He said he believed the pair were engaging in "an attempt to attack my religious, political and national affiliations."
Mr Reitblat later found a letter from Donnachie slipped under the door of his halls which read: "Firstly, I'd like to make it clear this is not an apology for what I think about Israel, which I consider to be illegitimate and murderous."
It continued: "On a lighter note you will like to know that my balls did not make contact with your flag - any ball flag contact was made by proxy with my left hand which acted as a very efficient middle man."
Mr Reitblat, who will take up a research position at Harvard when he graduates from Yeshiva University in New York State next year, said he had been left "disturbed, shocked, and violated" by the incident.
He added: "I can't believe this would happen at such a pre-eminent university in Scotland."
Colchester, of Andrew Melville Hall, North Haugh, St Andrews, and Donnachie, of McIntosh Hall, Abbotsford Crescent, St Andrews deny behaving in a racially aggravated, threatening and abusive manner towards Mr Reitblat.
The trial, before Sheriff Charles Macnair QC, continues.