St Andrews student who accused Jewish undergraduate of terrorism found guilty of racism
Paul Donnachie defaced an Israeli flag and complained about a 'Zionist' living in his hall of residence, a court heard.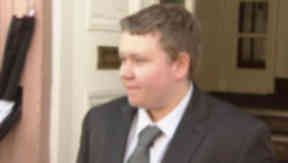 A St Andrews student who defaced an Israeli flag and accused a Jewish student of being a terrorist has been found guilty of racism and expelled from the university.
History student Paul Donnachie, 18, stuffed his hands down his trousers then rubbed them over the Star of David banner after drunkenly accusing Chanan Reitblat of terrorism, Cupar Sheriff Court heard.
Sheriff Charlie Macnair found Donnachie, a member of the Scottish Palestine Solidarity Campaign, guilty of a racist breach of the peace.
He said he was satisfied he had behaved the way he had towards the Jewish student because Mr Reitblat was a citizen of the State of Israel.
He said: "This flag was his personal property. I consider that your behaviour did evince malice towards Mr Reitblat because of his presumed membership of Israel.
"I'm satisfied that you said Israel was a terrorist state and the flag was a terrorist symbol and I also hold that you said that Mr Reitblat was a terrorist."
Deferring sentence on Donnachie for background reports, the sheriff said his actions towards the Israeli flag were "wholly uncalled for".
Members of the Scottish Palestine Solidarity Campaign, who packed the public benches in the courtroom, booed, tutted and shouted "scandalous" as Sheriff Macnair rose to leave.
During a two-day trial, Mr Reitblat, 21, said that the incident occurred on March 12 when two students entered his flat in university halls at 1.30am to see his room-mate.
A case against the second student, Samuel Colchester, 20, was found not proven after the sheriff said he was not satisfied he was involved in any criminality.
Lithuanian-born Mr Reitblat - a chemistry student at St Andrews for a term on exchange from the all-Jewish Yeshiva University in New York and now shortly to enter Harvard - said he had the 4ft x 3ft flag on the wall after being given it by his brother, an Israeli Defense Forces (IDF) soldier.
'Opposition to tyranny'
Mr Reitblat said Colchester and Donnachie, whom he knew "vaguely" and who were aware he was Jewish, were "extremely drunk and falling over a lot". He said Donnachie noticed the flag, and said Israel was a terrorist state and the flag was a terrorist symbol.
He then unbuttoned his trousers, put his hands down his pants, pulled off a pubic hair and rubbed it over the flag. Colchester did the same thing, the court heard, then started urinating in Mr Reitblat's washbasin, causing "collateral damage" to his toothbrush.
Mr Reitblat said he went to speak to the halls' warden because he felt Colchester and Donnachie had "insulted his beliefs" and phoned his parents, who were "left hysterical".
He said the next day he saw messages on Facebook from Donnachie, including one in which Donnachie complained there was a Zionist in his hall, and posted "f**k the IDF" and "Long Live Gaza".
He later found a letter under his door from Donnachie which said: "I never apologise for my opposition to tyranny, but I do apologise for touching your flag and for my over-familiarity with your private property." The letter also called what had happened "drunken revelry", which Mr Reitblat said he felt was "a taunt".
Mr Reitblat, who flew from New York, where he now lives, to give evidence, said he struggled at his exams afterwards, viewed his term at St Andrews as "a flop", and no longer left safe at the institution. He added that he had difficulty studying after the incident.
Colchester, of Andrew Melville Hall, St Andrews, and Donnachie, of Holbeck Avenue, Blackpool, had both denied acting in a racially aggravated manner intended to cause alarm or distress to Mr Reitblat.
Appeal
Outside the court, Donnachie said he would appeal. He said: "This is a ridiculous conviction. I'm a member of anti-racism campaigns, and I am devastated that as someone who has fought against racism I have been tarnished in this way."
Mr Reitblat, who was also booed as he left court, said he "welcomed" the conviction.
He added: "I hope my experience in St Andrews will help other Jewish students who come to Scotland in the future avoid the sort of incident I lived through.
"Despite this incident, I look back to my time at St Andrews in Scotland with many happy memories and will return in the future."
The university said Donnachie had been expelled and Colchester suspended.