Scots-born star of cult Yorkie bar adverts killed sick wife
Retired actor Stuart Mungall, 71, smothered 69-year-old Joan Mungall with a pillow at their home in Tooting, south London.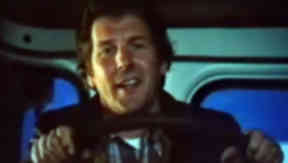 The Scots-born star of the cult Yorkie bar adverts has admitted killing his wife after struggling to cope with her terminal illness.
Retired actor Stuart Mungall, 71, smothered 69-year-old Joan Mungall with a pillow at their home in Tooting, south London.
Mungall, who starred in the chocolate bar adverts as a lorry driver during the 1970s, had developed a depressive illness as he struggled to care for his wife of 43 years.
His wife, a close friend of actress Jane Asher, was suffering from a neuro-degenerative disease, with similar symptoms to Alzheimer's. Her condition had deteriorated rapidly in the months before the killing on December 3 last year.
Mungall, who also appeared in episodes of The Bill, Casualty and Dempsey and Makepeace and on stage during a successful career, phoned his brother, daughter and a close friend to admit what he had done.
The court heard that when police were called to the couple's home in Hendham Road, Tooting, he said: "She's not in pain anymore. She was in such pain last night. Doctors say do this and that but they cannot make it better, so I made it better."
He also told a doctor: "I couldn't cope any more. I killed her. It's been four years now."
Mungall, born in Forfar, Angus, was charged with murder but admitted manslaughter on the grounds of diminished responsibility in July.
The plea was accepted by prosecutors after psychiatrists found he had been suffering from a "depressive episode" at the time.
Sentencing Mungall, The Recorder of London Judge Peter Beaumont QC said it was an "exceptional" course of action to take.
The pensioner was jailed for 12 months, suspended for two years. He will also remain under the supervision of the Probation Service for two years.
The judge said: "You come before the court as a man who has had a praiseworthy life achieving only distinction in your professional and business life.
"You have earned the plaudits of all who have known you, and they have recognised the devotion you showed to your wife Joan and the care you gave her as she suffered a degenerative and progressive brain disease for which there was no curative treatment.
"You had been married for 40 years and the evidence before the court, not just from those who have provided statements gathered by your solicitors, but from some of the witnesses interviewed by police, indicates just how happy and fulfilling your marriage was for the two of you.
"The evidence is compelling that as your wife's condition degenerated over the years from 2008 when the diagnosis of degenerative illness was made, you were not only her sole carer but you were caring for her most basic needs with unstinting devotion."
The judge said Mungall's plea to manslaughter "reduces your responsibility for your act of killing her but it does not extinguish it.
"You will have to shoulder that responsibility for the rest of your life. But the public are entitled and will rightly look to the court in expectation that the sentence I pass measures that responsibility accurately and underlines the fact that you cannot take the life of another as you did with impunity."
Mrs Mungall was also a successful actress who had worked for the Royal Shakespeare Company.
In June 2009 doctors discovered she was suffering from a degenerative brain condition. By the autumn of last year she was housebound and effectively bed-ridden, only able to use a zimmer frame or wheelchair, and was almost entirely dependent on her husband.
Prosecutor Mark Dennis QC said: "There is no suggestion that his wife wanted to end her life prematurely, nor had she encouraged the defendant to act as he did. The day before she was found dead nurses found her typically upbeat and in positive mood during a home visit.
But Mungall was "reluctant to accept outside help" and had failed to accept his wife would need palliative care at a local hospice, the court heard.
"He developed a depressive illness which led him to snap on the morning of December. Mungall had spoken to friends and to his brother Peter about killing his wife and then himself and had told his wife's nurse he 'felt trapped'."
A friend who arrived at the house found him in his night clothes and drunk. Mrs Mungall was lying dead in her bed seemingly undisturbed. A post-mortem later revealed she had been asphyxiated.