Hundreds of Dundonians smash world record for largest ever piggy back race
An event held in the city earlier this year has been officially confirmed as the largest piggy back race ever held.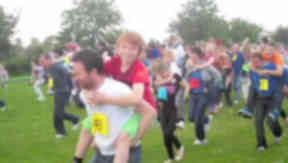 Hundreds of Dundonians have smashed the world record for the largest ever piggy back race.
In June this year 320 contestants sprinted across the city's Magdalen Green, as part of an attempt at setting the new standard for the fun-filled event.
On Tuesday, the Guinness Book of Records confirmed the achievement by handing over a special certificate to the winning pair.
Dominic Venditozzi and his daughter Lola were the first to cross the finish line during the record setting event.
Last year the piggy back race record was set in London when 296 people took part in the 100m dash.
The event in Dundee brought the city's annual West Fest to a close earlier this year.