Mystery over aircraft seen plunging into the sea
A fresh appeal for eyewitnesses to the microlight sighted plummeting into the sea off Angus has been launched.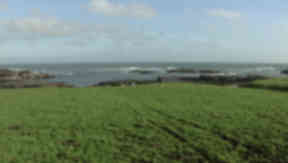 An appeal has been launched to get to the bottom of a "mystery" aircraft seen plunging into the sea off Angus.
Police enquiries so far have been "ultimately fruitless" since the alarm was raised on Tuesday afternoon.
Eyewitnesses who contacted the coastguard at around 4pm remain convinced that a microlight or small aircraft plummeted into waters off the Usan area of Montrose.
So far no trace of any aircraft has been found and now microlight flyers have been reported missing.
On Thursday, Tayside Police renewed their appeal after an extensive search by coastguard, the RNLI and a helicopter from RAF Kinloss found nothing.
Inspector Mark McInally said: "As it stands just now, the incident is something of a mystery. Eye witnesses are absolutely convinced by what they have seen and yet we have no reports of any missing people or aircraft that would corroborate those reports.
"Clearly, we remain concerned and are determined to establish exactly what may have happened. Anyone who knows someone whose interest or hobby involves flying should check their whereabouts.
"Could it be the case that this was someone who had journeyed to the area alone on a short break or holiday to enjoy this type of pursuit and loved ones remain unaware that they are missing? We're making every effort to get to the bottom of it.
"The Usan area is popular with walkers and we would appeal to anyone who was in the area on Tuesday, whether at 4pm, or earlier in the day and who saw anyone else in the area."
Tayside Police has checked with police forces across the UK, airports and flying clubs since the sightings of the aircraft earlier this week.
Officers are keen to speak to any local eye witnesses who haven't already spoken with them to come forward, while they also want to hear from anyone who might know people who own a microlight.
Anyone who can assist with the police should call 0300 111 222.