Fears of increased whale and dolphin strandings on Scotland's biggest river
Improved cleanliness of River Tay means more marine mammals finding their way in and could get stranded.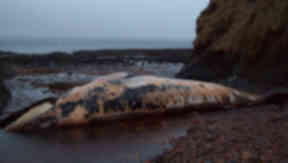 Increasing numbers of whales and dolphins are visiting Scotland's largest river.
The swell in numbers has led to fears that rescuers could be left struggling to cope with the volume of injured or stranded animals at the River Tay.
The Shanwell Wildlife Rescue Trust believes animals are flocking to the River Tay because of it's cleanliness, and have even started to spot minke whales in the water.
The trust is hoping to buy a state-of-the-art rescue trailer which would give injured animals the best chance of survival.
The group hopes to start fundraising for the £7000 vehicle which would be housed near the banks of the river at Broughty Ferry, Dundee.
Trust founder Gareth Norman said: "The number of animals coming into the estuary is increasing.
"I think it's because there is less effluent going into the river and it is much cleaner than it used to be. We are seeing more and more rescues.
"In the summer, when the water is warmer there is a good chance we will see more and more marine strandings.
"This equipment will allow us to respond to these incidents a lot quicker.
"Just like with humans, every minute counts when you are trying to save these animals. Hopefully we will be in a position to buy a trailer around July or August."