Proposal to cull River Tay wild beavers rejected
Around 100 wild beavers thought to have escaped or been deliberately released.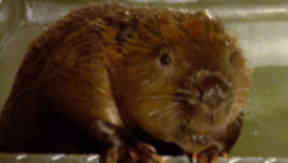 Beavers living wild around the River Tay will be monitored for the next three years before a decision will be made on the future of the animals in Scotland.
Environment Minister Stewart Stevenson said the timing ties in with an official beaver trial in Knapdale, Argyll, which draws to a close in 2015.
The decision follows a report from Scottish Natural Heritage (SNH) which had outlined three options for beavers in Tayside, including killing them.
Around 100 of the animals are thought to be living wild in the area, including some which escaped from private collections or were deliberately released.
The monitoring group will include the Tay District Salmon Fishery Board, local landowners and conservation groups including Scottish Wildlife Trust and the Royal Zoological Society of Scotland.
Mr Stevenson said: "There is potential for an important and unwelcome precedent to be set, so we must consider environmental and other impacts when we make decisions.
"After careful consideration of all the various factors, my view is that the best way forward is to allow the beavers to remain in place for the duration of the official trial beaver reintroduction in Knapdale in Argyll.
"We will take a decision on the future of beavers in Scotland, both those in Knapdale and on Tayside, at the end of the trial period in 2015."
The monitoring group will be led by SNH's David Bale, who said: "The information about Tayside beavers, along with comprehensive research from the Scottish Beaver Trial at Knapdale and other sources, should give the minister a full range of information to make his decision in 2015.
"We plan to have the group up and running as soon as possible."
Simon Milne, Scottish Wildlife Trust chief executive, said: "The Scottish Wildlife Trust remains opposed to the illegal release of wild animals into the Scottish countryside.
"However, tolerating and studying the unlicensed beavers on the Tay until the end of the official Scottish Beaver Trial in Argyll will enable the government to make a more informed decision on the future of all beavers in Scotland."