'Franciscan monk' remains unearthed at roadworks site
Resurfacing work halted at St Andrews after suspected 15th century remains discovered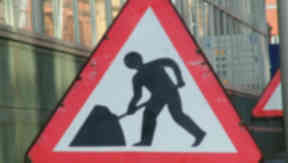 Human remains have been unearthed in one of Scotland's most ancient towns during road repairs.
Experts say the skeletons found at St Andrews could be those of a group of Franciscan monks who lived there in the 15th century.
Resurfacing work at the town's Greyfriars Garden has now been halted for the remains, found six inches from the surface, to be excavated and preserved.
Fife Council's archaeology team has spent years trying to pinpoint the exact location of the monastery inhabited by the monks.
Archaeologist Douglas Spiers said: "St Andrews is a town of considerable antiquity so we always held the possibility of archaeological remains coming to light in that area as part of the works.
"However, we thought that because they were only reducing the surface by a small margin it wouldn't be deep enough to disturb anything. Clearly, we were wrong."
Mr Spiers says the remains should be treated with respect.
He said: "These are human remains in consecrated ground so they must be treated with proper dignity.
"A Franciscan friary is known to have existed somewhere in the near vicinity and because of the order they weren't buried in the local cemetery but in their own little one.
"The exact footprint of the friary is not known and previous archaeological works in the area have failed to locate it. However, there can be little doubt that the discovery represents part of the cemetery of the friary."
It is thought that the friary was established in St Andrews in 1458, a relatively late development in medieval St Andrews. It was completed in 1478 but ransacked in 1559, during the reformation.
Skeletal analysis is likely to take place soon and experts hope it will reveal more about the lives and deaths of the bodies involved.
It is the latest in a long line of discoveries in St Andrews, which have revealed significant new information about one the country's most historic burghs.
House renovations in the town have revealed the remains of some of the earliest townhouses and pieces of medieval pottery have also been uncovered.
Mr Spiers said: "All of these investigations are slowly but surely shedding valuable new light on the origins of medieval St Andrews.
"More importantly, they are challenging many long held views, allowing a new history of the town's medieval past to be written."