First Minister in Kilmarnock in campaign to save Diageo jobs
Alex Salmond signs petition to keep Johnnie Walker in Kilmarnock.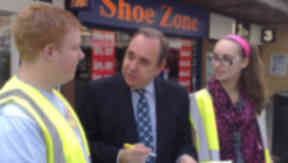 First Minister Alex Salmond has been in Kilmarnock as part of the Scottish Govenrment's campaign to save Diageo jobs in Scotland.
He has been meeting with staff at the closure-threatened plant, union representatives, local businesses and politicians
Last month Diageo announced plans to close its bottling plant in Kilmarnock, along with the Port Dundas grain distillery in Glasgow, with an overall loss of 900 job losses the country. Diageo says, however, there will be 400 new jobs at its Fife packaging plant and  that there will be no compulsory redundancies at the sites for one year.
On Tuesday night, Finance Secretary John Swinney hosted a summit of council, union and Government leaders, as well as MPs and MSPs, and said that they were "absolutely united" in their determination to stop the proposals.
The First Minister visited the town to hear the views of those affected by the proposals and to sign the Keep Johnnie Walker in
Kilmarnock petition.
He said: "Following Diageo's announcement earlier this month, the Scottish Government has been working hard to safeguard jobs and to ensure Scotland gets the best possible outcome for the company and its staff.
"Diageo has committed to a genuine consultation on their proposals and we are working to ensure that the company fully understands the consequences of their decision and also the benefits of retaining their strong and long established relationship with Ayrshire.
"This Government is focused on saving jobs and presenting Diageo with a strong, cohesive argument that challenges their proposals. Diageo has made billions of pounds from Scotland and their plans are not acceptable to the Scottish people.
"I would encourage everyone to support the Diageo workforce at this worrying time and add their name to the petition to Keep Johnnie Walker in Kilmarnock."
MPs are due to debate the closure plans in Westminster on Wednesday. East Ayrshire Council has also organised a protest in Kilmarnock for Sunday July 26.