Charity turns down Calendar Girls fund raising donation
Scottish Women's Aid tell fund raising hairdressers that they 'do not support the sex trade.'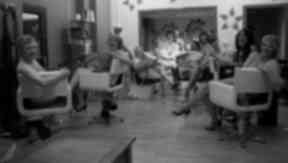 A Scots charity has turned down a potential donation from a group of women who posed for their own Calendar Girls style fund raiser.
A group of hairdressers from Coco's Hair Design in Alloa, Clackmannanshire, posed naked for a charity calendar to raise cash for branches of Scottish Women's Aid.
But bosses at the organisation's national headquarters in Edinburgh refused to take money from the salon - stating that they "do not support the sex trade".
Business partners Morag Hill and Katherine Cram, who own the hairdressers and were the driving force behind the calendar, said they were "deeply offended" by the charity's comments.
Ms Hill, who suffered domestic abuse for eight years, said the group hoped to raise hundreds of thousands of pounds for Women's Aid through a long-term programme of events and further productions including a book compiled by local women.
She said the group had already raised almost £1,000 through sponsorship and pre-orders before the calendars had even been printed - and expect to raise thousands more when the calendar goes on sale in shops and supermarkets in Clackmannanshire, but she said she was "shocked" at the attitude of Scottish Women's Aid.
She added: "It is a wee bit of fun - its hardly FHM material.
"It is very strange because Women's Aid UK think its great. To brand us as part of the sex trade is extremely insulting."
She added: "I had eight years of domestic abuse and I have always wanted to do something to raise awareness and funds.
"We want to raise hundreds of thousands over the coming years.
"Women's Aid is really underfunded - they need the money - it is a shame they don't want ours."
Jacqui Kelly, spokeswoman for Scottish Women's Aid, said: "We are a feminist organisation and of course we are happy that these women feel empowered by what they are doing.
"But we are opposed to the sex industry and we have an issue with women removing their clothes A calendar of naked women will sell well and we as an organisation are not comfortable with this.
"As the umbrella organisation for Scotland we would stress, however, that we do not tell different groups what to do or tell them where they should and shouldn't take money from.
"And we are fine with other branches, such as the Alloa group, accepting donations from this fundraising venture.
"But we decided that this calendar was not something we would like to take part in."