Postal union calls for action against dangerous dogs
The appeal comes after a Glasgow postman was attacked by two Japanese Akita dogs.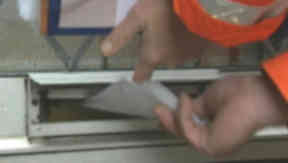 A postal union has called for tougher action against dangerous dogs after a postman was attacked and hospitalised in Glasgow.
Thomas McGrath, 45, was attacked by two Japanese Akita dogs in the city on Monday at around 10.30am.
The Communication Workers Union (CWU) has now called on the Scottish Government to back a bid by SNP backbencher Christine Grahame to strengthen the law.
Ms Grahame's Control of Dogs (Scotland) Bill would put more responsibility on dog owners for controlling their animals by allowing police to intervene at a dog owner's home and not just in a public place.
Mr McGrath was walking up a garden path delivering mail in Swinton Crescent, Baillieston, when the dogs attacked him.
He suffered face, back and arm injuries, including a wrist and hand wound which needed surgery at Glasgow Royal Infirmary. He is now recovering in hospital.
Strathclyde Police said the 62-year-old owner of the dogs gave his permission for them to be destroyed.
A spokeswoman for the force said: "A 62-year-old man is subject of a report to the procurator fiscal in connection with the Dangerous Dogs Act."
Meanwhile, CWU national health and safety officer Dave Joyce said: "Postal workers in the UK suffer up to 6,000 dog attacks every year, with many resulting in serious injuries."
He said the 1991 Dangerous Dogs Act did not address the behaviour of "irresponsible" owners as it did not cover attacks which took place on private property.
"Some 70% of attacks on postal workers - including some of the most serious dog attacks of recent years - occur on private premises such as in front garden, on paths and drive ways," he said.
He said Ms Grahame's Bill, which the union is backing, would address this "gaping hole" in the law.