Glasgow's youth live in fear of gang attacks
Newly published research has revealed a pessimistic view of life in Scotland's biggest city.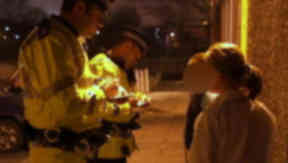 Youngsters in Glasgow's housing schemes won't stray from their own neighbourhoods for fear of gang attacks.
New research, published on Tuesday, has concluded rivalry between gangs from different areas of the city means young people feel threatened just a few steps beyond their own front door.
60 teenagers were interviewed in a study conducted by the University of Strathclyde, which found even those not involved in gang behaviour felt at risk. The study suggests job opportunities, leisure activities and relationships were all suffering as a result.
Dr Ross Deuchar, who headed the research team, said: "Glasgow's housing schemes were dominated by territorial issues and many young people felt unable to cross territorial boundaries because of fear.
"Territorial issues were clearly placing limits on young people's freedom and this impacted on their employment prospects, their ability to engage in recreational and leisure activities, to move house, or engage in trustful relationships with others.
"Even those young people who managed to stay away from gang culture suffered from a lack of spatial mobility and a feeling of being trapped."
Almost half of the young people interviewed said they were or had been gang members in Govan, Govanhill, Parkhead, Shettleston, Easterhouse and Ibrox.
One gang member told the study: "They offered me (accommodation in another housing) scheme right across from us, and obviously I can't get a house there because as soon as you get there you'll just get the door kicked in. So you stay in your own scheme because you know everybody, you know the surroundings."
Another said that though he could go to a work placement during the day, he couldn't go to a nearby cinema at any time. "You cannot go to the pictures because there's schemies (rival gang members) about there, so if you go down there you just end up fighting," he said.
The restrictions were found to apply to non-gang members too. Dr Deuchar said one youth "talked about having to take long routes home from football training on a Friday night to avoid getting caught in the middle of the fights between rival gangs".
The senior lecturer said that gang membership gives young people a sense of belonging and excitement, allowing them to earn respect by being macho and violent and is a means of getting protection from other gangs.
Robert Brown, the Liberal Democrat MSP for the Glasgow area, said: "This is a long-standing problem and the research will come as no surprise to police and youth workers.
"It is, however, a further reason why Strathclyde Police force's funding gap must be addressed as a matter of urgency. Very good work is being done by projects like Operation Reclaim with the full support of the police to break down gang barriers. We cannot afford to see a reduction in police strength if these efforts are to succeed."