Health centre at Lockerbie bomber prison criticised
The facility at HMP Greenock has come under fire in a report.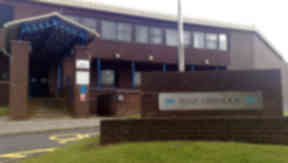 The health centre in the prison where the Lockerbie bomber was held is "not fit for purpose", according to an inspector's report published on Wednesday.
The prison service says Abdelbaset al-Megrahi would have received some treatment in the jail's health centre but he would have had to go to hospital for any specialist needs.
Former prisons inspector Andrew McLellan compiled the findings before he stood down earlier this year. In it, he claims the unit at HMP Greenock is very cramped and lacks appropriate facilites, meaning some visiting specialists have to see prisoners in the hall, when a room was unavailable, or use the visiting area.
Nurse-led clinics have also been cancelled because no space is available. However, despite criticising the facilities Dr McLellan says care delivery itself is satisfactory.
57-year-old Megrahi, who has terminal cancer, was released from Greenock Prison on compassionate grounds last Thursday after medics gave him less than three months to live.
A report dated August 10 from the director of health and care for the Scottish Prison Service disclosed that Megrahi has terminal prostate cancer, general debility and several other symptoms relating to his condition.
A spokesman for the service said Megrahi was treated in the centre as well as being treated by specialists in hospital.
"If someone needs hospital care, then that's where they get it," he said.
According to the report, the health centre is clean and tidy, but noise, interruptions to consultations, privacy, confidentiality and infection control were all criticised.
The report calls for the health centre to be "made fit for purpose".
But Dr McLellan says that overall he compiled a good report on the prison.
"Many aspects of the prison have been commended in previous reports and continue to be good," he said.
Singled out for praise were the relationship between staff and prisoners, general safety in the prison, the standard of food, the preparation of inmates for release, and the prison's laundry and addiction services.