Row over Glasgow Airport Rail Link continues
The Scottish Government has been accused of stabbing Glasgow 'in the heart' after axing plans to build the development.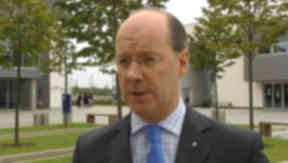 The Scottish Government has explained to Commonwealth Games chiefs its reasons for scrapping the planned Glasgow Airport Rail Link.
A rail link connecting the airport and city centre was one of the arguments deployed by ministers in their successful pitch to attract the 2014 Commonwealth Games to Glasgow.
However, on Thursday, the project became the biggest casualty of the Scottish Government's £30billion budget for next year.
Finance Secretary John Swinney said the budget represented a 0.9% cut in real terms, the first since 1999.
But critics have accused the SNP of an anti-Glasgow agenda and Glasgow City Council leader Steve Purcell described the rail link decision as a "dagger in the heart" of the city.
Mr Swinney said a "commitment" had previously been given to the Commonwealth Games Federation that transport links would be improved in time for the Games, and the airport rail link was part of that proposition.
Denying charges of an anti-Glasgow agenda, Mr Swinney insisted to reporters: "When you look at the spending record of this Government, you will see that Glasgow comes out extremely well.
"Glasgow commands the highest level of per-person funding from the Scottish Government in local authority spending, in any mainland local authority."
Meanwhile, Games organisers said scrapping the rail link would not affect the event.
A statement said: "The Organising Committee for the Glasgow 2014 Commonwealth Games is early in the planning stage for the games transportation strategy.
"But the changes announced yesterday to the GARL project should not materially affect our ability to stage an outstanding Games in Glasgow - for athletes, officials or spectators."