Salmond pays tribute on anniversary of Auchengeich mining disaster
The First Minister unveiled a new sculpture dedicated to the 47 men who died in a fire in 1959.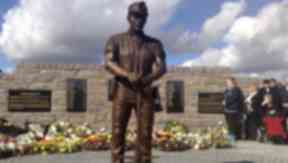 First Minister Alex Salmond has paid tribute to those who lost their lives in the Auchengeich Colliery disaster 50 years ago.
Following a service to mark the anniversary of the tragedy, the First Minister unveiled a new sculpture and memorial garden dedicated to the memory of the 47 men who died after becoming trapped underground by a fire on September 18, 1959.
The new memorial features a bronze sculpture of a miner and includes 47 stones inscribed with the names of the men who lost their lives.
Production at Auchengeich came to an end not long after the disaster, and the houses of the adjoining mining village of Bridgend were demolished in 1967.
Mr Salmond said: "The tragedy at Auchengeich Colliery left barely a town, village or mining family in North Lanarkshire unaffected. Fifty years on, the memories of the fateful day which claimed the lives of so many husbands, fathers, brothers and sons endure and I am honoured to pay tribute to them.
"Scotland is fortunate enough to have been blessed with rich natural resources, from the abundant coal seams of the central belt to the oil and gas reserves off our shores and the emerging renewable energy sources we are just beginning to feel the benefits of.
"But we should never forget the human cost which has come with that. Just as the Piper Alpha tragedy more than two decades ago underlined the hazards of North Sea exploration, the Auchengeich disaster showed all too starkly the dangers and risks which miners all over Scotland took for granted as part of their job every time they descended the pits.
"The excellent work of the people of North Lanarkshire and Auchengeich Miners' Welfare has provided this new memorial garden and magnificent bronze sculpture. Together, they are a truly fitting tribute to those 47 brave men who died in Auchengeich half a century ago."