Campaigners oppose plans for new Hunterston plant
Campaigners have launched a legal challenge against the Scottish Government in protest of plans for a new coal-fired power station in Largs.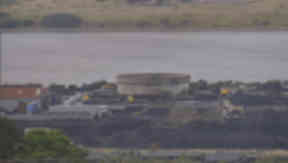 A legal challenge against the Scottish Government has been launched by campaign group 'Communities Opposed To New Coal At Hunterston', who oppose plans for a new coal-fired power station in Largs, North Ayrshire.
The group is campaigning for a judicial review on the way planning permission is granted.
They are also challenging the inclusion of the station on Scotland's National Planning Framework - a list of 14 projects considered crucial to the country's infrastructure and development - which they said took place after a consultation had ended.
The group say the Government has 'not consulted the public according to standards required by European law' and that assessments did not 'adequately examine alternatives' to a coal-fired power station.
Campaigners say the Hunterston power station was added late to the Scottish Government's National Planning Framework and was only first mentioned four months after the main consultation closed.
A spokesman for the group said: "The public were unaware that this major development was proposed until it was too late to comment. 
"Once developments are named in the NPF it is almost impossible for people to object to them. People can influence details such as the design and landscaping when the application goes in but basically the presumption is that the development will go ahead."
Local resident Maggie Kelly said: "The proposed power station would have a devastating impact on our community, damaging our health, our livelihoods and destroying the local environment. Yet under the National Planning Framework, we have been denied the opportunity to object to this major development."
If the group fails they will face legal costs of at least £100,000. However ,campaigner Tim Cowen thinks it is a cause worth the fight.
"Local people may not have the financial resources of either the Scottish Government or the developers but we do have justice on our side.
"By bringing people together our campaign intends to get our voices heard and ensure that this disastrous proposal will never go ahead."
A spokesman for the Scottish Government insisted that the National Planning Framework has been subject to wide-ranging consultation.
"It is vital that communities are able to have their say on proposed developments and reforms to the planning system have increased participation in the decision-making process.
"Projects designated as national developments in the NPF will still require planning permission or equivalent consents.
"The public will be able to have their say on matters such as siting, design and the minimisation and mitigation of potential environmental effects as part of the development management process, including any public inquiry."