John Smeaton vows to 'create waves' in Westminster
The former baggage handler has been confirmed as a candidate for the vacant Glasgow North East seat.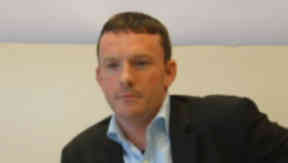 John Smeaton has vowed to "create waves" in Westminster if he wins the parliamentary seat vacated by former Commons Speaker Michael Martin.
The ex-baggage handler, who tackled a suicide bomber during the 2007 Glasgow Airport terrorist attack, said he will represent the people if he wins the Glasgow North East by-election.
Mr Smeaton, 33, said a clampdown on crime is needed because gang crime is "running unchecked", while unemployment is "rampant".
He was grilled by journalists on his policies in his first press conference, at a hotel in Glasgow, at which he confirmed his intention to stand in the by-election.
"My message to Glasgow North East is: vote for change or stop complaining. Let us all get out on the streets and make sure everyone votes for someone who cares and who will fight for them. I know Glasgow North East, my mother worked in Possil and I spent a lot of time there, and I know the problems because I've been speaking to people about them.
"The Labour Party have had 30 years to bring investment and jobs into Glasgow North East. I haven't noticed much difference and I know from strolling round the constituency that folk living there haven't noticed many changes either.
"Well I can. And, if I'm elected, you'd better believe it: I will. I'll bring a storm down on Westminster, knock down doors and badger them until they listen. No messing. We must have someone in Parliament who knows how the public feels. I know I can do that."
Mr Smeaton, who will stand as an independent candidate but will be affiliated with Jury Team, said he will fight "every minute of every day" for his constituents.
Jury Team was founded earlier this year by the former director-general of the Conservative Party, Sir Paul Judge. Speaking about his decision to stand, Mr Smeaton admitted that he had thought he would never enter politics. He said he changed his mind after he was approached by the Jury Team.
He added: "I'm angry and I'm fed up by the way politicians have been behaving. Like everybody I was shocked by the fiddling by the MPs. I reckon most of you shared the same disbelief as we watched them try to excuse their greed over expenses. It really made my blood boil."
Mr Smeaton is the first candidate selected by the movement to stand for a seat in the House of Commons. In the European Parliamentary elections, Jury Team selected 52 candidates and won around 80,000 votes.
The by-election, which will take place later this year, was triggered when Mr Martin stood down in June in the wake of the row over MPs' expenses.