Police report finds rise in crime at Orange Walks
Crime across the board increased at marches in Glasgow and Lanarkshire this summer.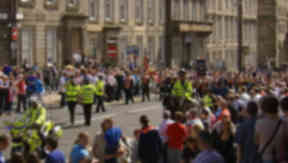 Police had to deal with a rise in serious assaults, breaches of the peace and street drinking offences at Orange Walks held in the west of Scotland this summer.
That is just a snapshot of a new report by Strathclyde Police which compiled information from parades which took place on the first two Saturdays in July this year. The report covers the large events held in Glasgow and Lanarkshire and a smaller parade in Cumnock, Ayrshire.
A separate report concluded 49,859 police hours were required for marches and parades in the Strathclyde Police region between April 1, 2008 and March 31, 2009. This came at a cost of £1,714,374.
Police reports from the Glasgow march, which took place on July 4 this year, found two people were stabbed while a number of racially aggravated incidents and street drinking offences also took place. A 21-year-old was stabbed at 9.27am in Garscube Road, while a 20-year-old was stabbed an hour later in the city's St Mungo Avenue.
A 15-year-old boy, meanwhile, was struck on the head by an unknown implement after up to 40 youths following the procession took part in a fight.
Overall, in comparison to 81 other Saturdays between January 2008 and July 2009, breaches of the peaces were higher by 74.8%, with common assaults and serious assaults up by around 50%. However, in regard to serious assaults, the actual numbers of offences only increased from 6.6 to 10.
At the parade in Cumnock, Ayrshire, which was also held on July 4, the report stated that there were no notable incidents associated with the march. Common assaults increased by 557.9%, but the actual numbers only increased from 0.8 to 5 offences.
Police in Lanarkshire also reported an increase in crime across the board for the marches held on July 11, with numbers of offences relating to common assault, breaches of the peaces, street drinking and assaults on police officers all rising. However, once again, some of the increases, while large in percentage, were small in actual incidents.
The report was keen to stress that the heavy police presence associated with the Orange Walks would have affected the figures.
Martin Smith, the report's author, states: "The crime and disorder impact associated with these processions is extremely difficult to measure or quantify, particularly because of the high level of police presence involved. A considerable but unknown amount of violence, disorder and anti-social behaviour will have been prevented from occurring.
"However, the high police presence also means that a large number of instances of violence, disorder and anti-social behaviour will have been detected by police officers that would otherwise not have been reported to the police.
"It is therefore with caution that this report attempts to compare the crime, disorder and antisocial behaviour levels on July 4 and July 11 in the affected areas with levels for a 'typical Saturday'."
To see the full Strathclyde Police report on the crime figures, click *here
*
*To see the full Strathclyde Police report on police resources relating to the parades, click *here