Unusual fish turns up off west coast of Scotland
Grey trigger fish being caught off west coast of Scotland by surprised fishermen.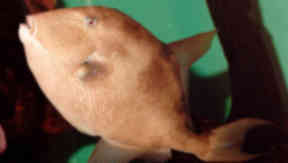 An unusual fish known for its sharp spike and beak-like mouth has stunned experts after turning up off the west coast of Scotland.
The grey trigger fish, or balistes capriscus, is usually found in warmer waters closer to the Mediterranean. But fishermen have caught several in creels in the much colder Sound of Mull. One was so surprised that he delivered two alive to the Scottish Sea Life Sanctuary near Oban, Argyll, where they have been put on public display.
Curator Mark Hind, an active member of the Scottish Sea Angling Conservation Network, said others had been reported in recent weeks and said it was further evidence of global warming in the seas around Scotland.
The fish, which use their powerful jaws and eight sharp incisor teeth to attack and eat crabs and shellfish, usually require 18 degrees centigrade to thrive in the sea.
Mr Hind said: "Trigger fish are beautiful but they are Mediterranean fish which normally swim in 18 degrees. They've been known off the south coast of England in the summer, but now they are turning up and being caught off Oban.
"I have never seen one, or even heard of one being caught in this area, until now. Friends who have fished the area for 40 or 50 years have never seen one and are shocked. It should be far too cold.
"To pick up one so far north you might think it had come up the Gulf Stream and got lost. You might find it washed up on a beach dead, but these are several healthy fish that have adapted to 12 degrees,  and that means they've been there for a while."
He added: "Normally in winter the water off the west coast of Scotland can change quite dramatically in temperature. But we've recently noticed that the waters are sustaining their temperatures for longer.
"It is definitely sign of climate change, and a shock for us to see. Unseasonal warm seas, perhaps coupled with a breeding boom in their native seas closer to the equator, could have brought large numbers to Scotland.
The two captured fish have recuperated in the Sea Life Sanctuary's quarantine tank before going on display.