Outdoor nursery opened in Glasgow
Woodland Outdoor Kindergartens hopes to encourage children to learn more about the outdoors.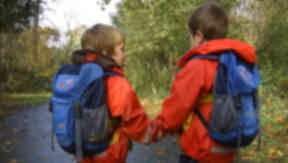 Scotland's first outdoor city nursery has opened in Glasgow. 
Children from the age of two will be spending up to six hours a day outside in the city's Pollock Park in all weathers and in all seasons.
The nursery began after two Scottish mothers were looking for similar outdoor nurseries which you can find in Scandinavian countries and in continental Europe.
When they realised there weren't any at hand, they realised there was a gap in the market.
Alison Latta, one of the nursery's owners, said: "There was nothing available in Glasgow or, in fact, even the wider area of Scotland in an inner-city environment so we had been looking for childcare for our own children.
"We were looking for something that had a lot more space and a lot more outdoor activity. That is why we launched it."
The result is Woodland Outdoor Kindergartens - where children are encouraged to climb trees, nap in hammocks and learn from the natural world around them.
Adam Ingram MSP, Children's Minister, said: "When you think about it, most of our towns and cities have got super green spaces and outdoor spaces which are probably being underused so I think this is a great idea."