Prime Minister joins Glasgow North East by-election
Gordon Brown visits crucial voters ahead of next week's election showdown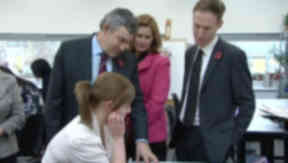 Prime Minister Gordon Brown joined the Glasgow North East by-election campaign trail on Friday to offer his support to Labour candidate Willie Bain.
Mr Brown broke with tradition by visiting the area in the run-up to the crucial voting day.
He knocked on doors and spoke to voters in several streets urging votes for Mr Bain in what could be Labour's last by-election test before a national election.
The Prime Minister also took time away to visit a group of students where he told them his mission was to see job creation for all.
Speaking to students at Langside College of Further Education he said he wanted to see Britain's economy return to high employment "quickly".
"In the past we developed only some of the talents of some of the people," he said.
"The whole purpose of this college, and our policy for education is to develop all of the talents of all of the people."
Accompanied by Scottish Secretary Jim Murphy, he continued: "I want to see a situation where not only do we give you new opportunities in education, but we create an economy where there are jobs for all.
"Our mission is not simply to invest more in education as we will do with the new extension to the college. Our mission is to make sure there are jobs in the economy for people once they get the qualifications."
The first £18 million phase of the £36 million redevelopment has recently been completed.
Mr Brown, who visited the college after an invitation from Principal Graeme Hyslop, paid tribute to "a great building, and a great college in a great city".
Meanwhile Mr Brown's wife has already been campaigning in Glasgow North East. The seat was made vacant by the resignation of former Commons Speaker Michael Martin.
It was Mrs Brown's second foray into by-election campaigning. Last year she campaigned in Glenrothes and her husband also paid a short visit to the campaign, in a by-election in which Labour went on to hold the seat.
Holding that seat boosted the morale of Labour after the shock of last June, where it lost the Glasgow East by-election to the SNP in a stunning reversal of fortunes in what had previously been a rock-solid Labour seat.
Neither Mr Brown nor his wife campaigned in Glasgow East - which is next door to Glasgow North East - and Labour said at the time it was customary for Prime Ministers not to take part in such campaigns.
A total of 13 candidates are in the contest, where voters head to the polls next Thursday.
The candidates who will contest the Glasgow North East by-election are:
Charlie Baillie, British National Party
Willie Bain, Scottish Labour Party
Eileen Baxendale, Scottish Liberal Democrats
Mev Brown, Independent
Colin Campbell, The Individuals Labour and Tory (TILT)
Ruth Davidson, Scottish Conservative and Unionist
David Doherty, Scottish Green Party
Mikey Hughes
David Kerr, Scottish National Party (SNP)
Louise McDaid, Socialist Labour Party
Kevin McVey, Scottish Socialist Party – Make Greed History
Tommy Sheridan, Solidarity – Scotland's Socialist Movement
John David Smeaton, Jury Team