SNP candidate says Labour are ahead
David Kerr made the comment as all 13 candidates entered the final lap of the race to become the next MP for Glasgow North East.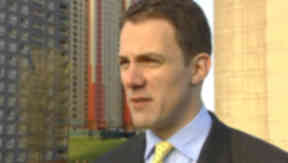 The SNP candidate in the Glasgow North East by-election has told STV News that Labour are ahead in the battle to decide the constituency's next MP.
David Kerr says he hopes to close the gap as all of the parties prepare to mount a huge polling day operation to prevent a record low turnout. Sources have told STV News that some of the 6,000 postal votes have already been opened, with Labour well ahead.
Mr Kerr said: "I am not across completely what is going on in the postal votes. I think Labour are ahead in the postal votes. We are behind, with a few days to go, we are behind. That is why Labour are looking cocky and confident. That is why we know we have to work hard to win every vote. That is why we know we are closing the gap."
Labour's candidate Willie Bain added: "We like the direction that our campaign is going in but we can take nothing for granted. This is going to be a tight and close election. Turnout is critical. We are inviting all our supporters that have said they were going to support us to come out on the day. That is going to be key to the outcome."
Meanwhile, Home Secretary Alan Johnson has called for a debate on immigration following a visit by BNP leader Nick Griffin to Glasgow ahead of the by-election.
Mr Johnson made the call during a visit to the city to support Labour candidate Mr Bain along with Chancellor Alistair Darling, while Mr Griffin made a visit to his party's campaign on Monday. Nick Clegg, the leader of the Liberal Democrats, was also in the constituency.
Mr Johnson said: "Let's not have a debate as if, on the one hand, there's an argument for an open door policy and on the other hand the argument is to close the door completely.
"No-one in mainstream politics is arguing for any of those alternatives. And it would help counter the BNP threat if we had the debate the moderate majority of people in this country want to see around those issues, and we did no shy away from it because we were concerned of it leading to the extreme right."
Both Mr Johnson and Alistair Darling rounded on the BNP leader. But Mr Griffin claimed to have had a good response and said his party stood a serious chance of coming third in Thursday's battle, widely viewed as a two-horse race between Labour and the SNP.
The candidates who will contest the Glasgow North East by-election are:
Charlie Baillie, British National Party
Willie Bain, Scottish Labour Party
Eileen Baxendale, Scottish Liberal Democrats
Mev Brown, Independent
Colin Campbell, The Individuals Labour and Tory (TILT)
Ruth Davidson, Scottish Conservative and Unionist
David Doherty, Scottish Green Party
Mikey Hughes
David Kerr, Scottish National Party (SNP)
Louise McDaid, Socialist Labour Party
Kevin McVey, Scottish Socialist Party – Make Greed History
Tommy Sheridan, Solidarity – Scotland's Socialist Movement
John David Smeaton, Jury Team
• Join us at stv.tv for in-depth coverage of the by-election on November 12. We will be reporting live from the count. Follow all the latest developments at www.stv.tv/byelection