Eddie Izzard campaigns for Labour
The comedian and marathon runner supported candidate Willie Bain in Glasgow North East.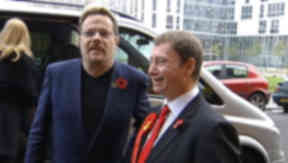 Comedian Eddie Izzard went on the campaign trail for Labour on Wednesday as candidates in the Glasgow North East by-election launched their final push for votes.
Izzard met the party's candidate, Willie Bain, as bookies made Labour 5-1 on to win. Ladbrokes quoted Glasgow Airport terror attack hero John Smeaton as 50-1 against to win but evens to get between 1,000 and 2,000 votes.
The SNP was quoted at 10-3 against. Izzard said he had a chance encounter with Mr Bain while running a charity marathon in Glasgow during the summer.
"I'm very supportive of any Labour Party candidate standing in any election. It's great that my timing's absolutely perfect playing here in Glasgow. So I can come back and do this properly."
The comic has previously said he may stand for a seat in the Westminster or European parliaments in 10 to 15 years.
He said: "I'm going to learn from everyone else before I do mine. It might be better that I stay out and be like Bono and be active because I'd have to kill my career if I do that. But I think I need to stand, I think, you know, I can't leave it to the right-wingers."
Meanwhile, the party leaders of all four main parties joined their candidates for a final day of campaigning on the streets of Glasgow North East.
First Minister and SNP leader Alex Salmond was back in the constituency in support of the Nationalists' candidate, David Kerr
Tory Ms Davidson toured the area with the Scottish party leader Annabel Goldie, while Scottish Liberal Democrat leader Tavish Scott supported Eileen Baxendale.
Labour's Iain Gray also joined Mr Bain.
• Join us at stv.tv for in-depth coverage of the by-election on Thursday, November 12. We will be reporting live from the count. Follow all the latest developments at www.stv.tv/byelection