Secret shower video man given probation
Michael Devlin took secret videos of his partner and her daughter while they were in the shower at a house in Glasgow.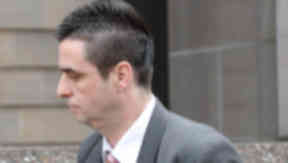 An engineer who secretly filmed his partner and her daughter in the shower has been sentenced to three years probation.
Michael Devlin, who also took nude pictures of the women while they were asleep, was also ordered to do 300 hours community service.
The 41-year-old filmed his 45-year-old partner and her 24-year-old daughter while they were showering and gave the women sleeping pills so that he could take pictures of them while they were asleep.
Sentencing the dad-of-two at Glasgow Sheriff Court on Thursday, Sheriff Norman Ritchie said: "These are nasty offences. To describe them as a breach of trust is a particularly mild way of describing them. These plans were executed over a number of dates and you went about it in a devious and sordid way and no right minded person would have anything but contempt for what you did."
At an earlier hearing, Devlin, of Carntyne, Glasgow, admitted breaching the peace by taking pictures of the 24-year-old while she was asleep and in the shower on various dates at a house in Glasgow between November 1, 2008, and January 5, this year.
The fibre optic engineer also admitted sexually assaulting his partner and taking pictures of her while he did it. Prosecutor John Bedford told the court that Devlin and the woman had been in a relationship for several years.
The woman - who cannot be named for legal reasons - became suspicious after she woke up one night and heard a clicking noise and suspected that Devlin had been fondling her. Mr Bedford said: "The complainer formed the impression that the clicking noise was the accused using a mobile phone to take a picture of her.
"She searched his pockets and found his mobile phone along with a memory stick. She opened it up on her computer and found a number of photos of herself naked and a number of images of her daughter in the bathroom showering, undressing and drying herself.
"She also saw images of her daughter naked in her bed. The complainer then attended at a police office and handed over the memory stick."
Mr Bedford also told the court that Devlin regularly gave his girlfriend sleeping pills and had given them to her daughter on a number of occasions. Officers found 190 images of the two women stored on the memory stick and computer.
Mr Bedford added: "The accused was interviewed and freely admitted that he had filmed both of the women. He told officers that he kept the images for his own gratification."
Defence lawyer Anne Ritchie told the court that her client has "a great degree of shame and disgust" for what he did. Ms Ritchie added: "Mr Devlin has difficulty offering an explanation for his conduct but accepts full responsibility for his actions."
Speaking outside court, Devlin's ex-partner said that she felt "sick" when she discovered what was going on. She said: "That man is a wolf in sheep's clothing; he's not the man I met four years ago. I had a doubt in my mind that he was up to something but I didn't want to believe it.
"The first photos I saw were of myself and I was hurt more than anything that my trust had been betrayed and I was heart broken. But then as I went on looking at them I saw my daughter and I was horrified. I felt absolutely sick."