Spelling mistakes cost councils dearly
A Freedom of Information request has revealed that councils across Scotland have been forced to correct signs after spelling errors.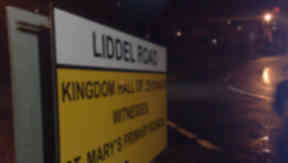 It has emerged Scottish councils have forked out hundreds of pounds correcting spelling errors on street signs after mistakes by their employees.
The errors include Glasgow City Council, which said about five road signs had been corrected since January 2003 at a cost of around £300. One of which was for the Crowne Plaza hotel after an error by a council employee.
A spokeswoman for Glasgow City Council said: "Road signs were made up with 'Crown Plaza' and had to be changed to 'Crowne Plaza'. We have not spent anything during the period from January 2008 correcting road signs," she added.
The news comes only a few weeks after campaigners in North Lanarkshire stepped up their efforts to correct a spelling mistake on a public tribute to Chariots of Fire legend and The Greatest Scot candidate Eric Liddell.
A road named after the Olympic champion in Cumbernauld, North Lanarkshire, has - according to local residents - been spelt wrongly for more than 25 years. They claim the original sign was changed to read Liddel Road instead of Liddell Road.
Meanwhile, Dundee City Council confirmed that two signs had been corrected since January last year at an approximate cost of £90 each for removing and replacing the signs.
A spelling mistake resulted in Mentieth Street instead of Menteith Street, and a "typing error" led to Drumlanrig Drive instead of Drumlanrig Place.
Renfrewshire Council said two road signs which were wrongly spelt last year had been replaced at a total cost of £60, while a spokesperson from West Lothian Council spokeswoman said: "Spelling errors have been corrected on five West Lothian street signs since 2003. There have been no recorded mistakes on road signs since 2003."
A road number error for the Clachan junction signs by an Isle of Lewis Council employee led to two "direction signs" being corrected and the authority splashing out £1,216 in 2007. A mileage error by a member of staff also cost the council £50 this year for the main road in Harris.