Swine flu claims lives of two more Scots
Two adults from the Glasgow area are the latest to have died with the H1N1 strain.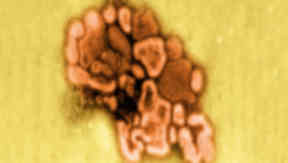 Two more people have died from swine flu, bringing the Scottish death toll to 64.
An adult from the NHS Greater Glasgow and Clyde area, who was transferred to Leicester for treatment, died after contracting the H1N1 strain. The patient had been transferred to a hospital in the city, which houses the only specialist unit in the UK providing extracorporeal membrane oxygenation treatment for adults.
The treatment circulates the patient's blood outside the body and adds oxygen to it artificially. It is used when a person's lungs are not working properly.
Meanwhile, tests carried out on a patient who died within the NHS Greater Glasgow and Clyde area in October have now confirmed that he died with swine flu. Both patients had other health conditions.
Health Secretary Nicola Sturgeon said: "Unfortunately we have had confirmation of two H1N1-related deaths, and my deepest sympathies go to the patients' families and friends.
"This week's figures suggest a stable picture across Scotland. The rate of people seeing their GP for flu-like symptoms is down, as is the number of people testing positive for H1N1 and the number of hospitalisations.
"Vaccination remains our best defence against this pandemic, and I would urge everyone who has been invited to have the jag to come forward. As the programme enters its second phase and children aged six months to five years are offered immunisation, I would encourage all parents to ensure their children are vaccinated."
Figures from Health Protection Scotland, released on Friday, state that as of January 6, there have been 1,482 people with swine flu hospitalised in Scotland since the start of the outbreak.
Meanwhile the estimated uptake of the vaccine taken by people under the age of 65 in a clinical at risk group, and pregnant women remains under 50%.
The estimated uptake rate so far among front line health and social care staff, on the other hand, is 50.8 per cent and 32.1 per cent respectively.