'Red Rose' murderer fails in appeal bid
William Gage, who is in jail for the murder of Justin McAlroy, asked to be released following the death of his father.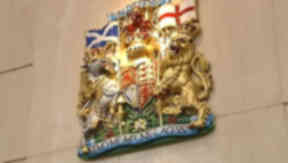 A man who is serving life for the hit-man murder of a millionaire's son has failed in his latest bid to be released from jail.
William Gage, 38 - who has been protesting his innocence for almost eight years - asked appeal judges on Wednesday to let him return to his family because his dad had just died.
In what became known as the "Red Rose" murder, Gage was found guilty of gunning down Justin McAlroy in Acacia Way, Cambuslang, Lanarkshire, as he returned home to his pregnant wife.
Widow Tracey McAlroy later told a trial she would always remember the staring eyes of the hooded assassin who pumped five bullets into her husband as he stepped out of his Mercedes. The trial in Glasgow had heard 30-year-old McAlroy was murdered over a £50,000 drug debt.
Gage, originally of Hillhead, Glasgow, had already lost one attempt to overturn his conviction but the Scottish Criminal Cases Review Commission - which examines possible miscarriages of justice - has asked the Court of Criminal Appeal in Edinburgh to take another look.
Defence QC Margaret Scott told the court on Wednesday there were "substantial" grounds for the appeal and that Gage's father had passed away after a terminal illness on January 12. Ms Scott said: "Gage seeks to be with his family and support them. He has been in custody since 2002."
Advocate depute Alex Prentice QC told the court the application should be refused. He said: "It was premeditated murder involving the use of a firearm in a residential street in the evening."
Lord Reed, sitting with Lord Kingarth and Lord Carloway, told Gage they were not persuaded that he should be released, pending the outcome of his new appeal. The judge said the court extended its sympathy in light of the recent tragic events but this was not grounds alone and the application was refused. A date for the appeal has not yet been set.
After the fatal shooting in March 2002 it was revealed McAlroy had been living a double life. His father, builder Tommy McAlroy owned Dalziel Country Park and Golf Club and also had hotel and property interests.
But Justin McAlroy was dealing heroin and a detective from the Scottish Drugs Enforcement Agency told the trial that he had been a target for surveillance for three years.