South Lanarkshire environment protestors being evicted
Sheriff's Officers and police begin to remove protestors from site of open-cast coal mine.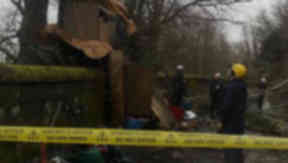 Ten protestors have been arrested after being evicted from the site of a new open-cast coal mine in South Lanarkshire.
Scottish Coal was given permission to mine 1.7 million tonnes of coal from Mainshill Wood in 2009. A group opposing the development has been occupying the site, arguing that the development of open-cast coal mines and coal-fired power stations are adding to climate change.
Campaigners add that the local community is backing their efforts, with locals from nearby communities such as Douglas supporting the protest. They point out that there are are already four open-cast mines in the immediate area and that over 700 letters of objection were sent to South Lanarkshire Council in response to the planning application by Scottish Coal, from a population of around 1000 people. 
On the site, tree houses, tunnels and barricades have been constructed in a bid to prevent the eviction.
The protestors' website said that they were: "Preparing to resist any attempts to remove us from the area. Mainshill has stood in solidarity with the local community of Douglas for seven months and we're not about to surrender to the wishes of fat cat landlords, Scottish Coal, or corrupt councillors any time soon!"
Strathclyde Police said that the eviction got under way at around 9am on Monday morning. They estimate that there are around 15 protesters involved in the occupation, with about another 15 supporters outside the camp.
Police are supporting Sheriff's Officers, including members of the National Eviction Team who have special expertise and equipment for removing people from heights and from underground and for removing people who are using locks to attach themselves to objects to make their removal more difficult. 
In a statement, Strathclyde Police said: "This is an entirely civil process undertaken by Sheriff's Officers acting on an order of the Court, assisted by appropriately trained specialists. While a Police presence will be evident, Strathclyde Police will not actively participate in the eviction process itself, but rather will be in attendance to ensure that public order is maintained.
"Their role therefore will primarily be to prevent crime and disorder, to maintain public safety at the site and the roads network and to facilitate lawful and peaceful protest while the eviction process is undertaken by the Sheriff Officers. Where acts of a criminal nature occur Strathclyde Police will investigate and deal with offenders in the normal fashion."
Police confirmed that there have been a number of arrests.
A member of the camp, Richard, spoke to STV News and said: "We had a gathering at the weekend because we expected it and we had had a reliable tip-off.
"We have around 60 people in defences and in tunnels and up trees, locked on and making things as difficult as possible."
He added that the eviction was likely to take some time, saying that a previous eviction from a site in Scotland took a week to complete.