Cornton Vale prison: overcrowded, cold meals and a two-hour wait for the toilet
VIDEO: Brigadier Hugh Monro's inspection of the prison said Scotland's only jail for women was in "a state of crisis". But how did he come to this conclusion?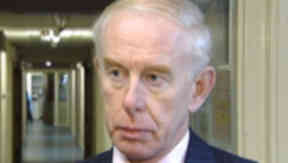 Prison inspector Brigadier Hugh Monro has produced a damning 72-page report into conditions at Scotland's only prison for women. His findings reveal systematic overcrowding and the lack of a basic quality of life for many prisoners: 
Overcrowding
The sheer numbers of prisoners at Cornton Vale, the inspectors stated, was at the heart of many of the prison's problems.  In the report, Brigadier Monro, HM's Chief Inspector of Prisons, concluded: "High numbers of prisoners at Cornton Vale have become endemic and have a negative effect on staff and prisoners alike. Cornton Vale is in a state of crisis and an ever increasing prisoner population is one of the main causes; indeed many of the criticisms I have are directly related to this situation."
While some may think prison, after all, is not a holiday camp and should not be comfortable, Brigadier Monro and the other inspectors argue that prisoners cramped into a small cell, with little quality of life on offer, do not have many opportunities to improve themselves. The study also stated that overcrowding has a detrimental effect on other areas of prison life.
Education, work and 'perceived boredom'
In 2006, Andrew McLellan - the previous chief inspector - filed a report on Cornton Vale, and highlighted a "perceived boredom" among prisoners who would often spend the majority of their time in their cells. This, Brigadier Monro's report stated, had deteriorated by last year.
A lack of prison staff meant that inmates could not be taken at times for activities and, instead, would be left in their cells for long periods. When staff members were absent, work parties were simply cancelled. The prisoners would then stay in their cells all day with little to do. This, both Mr McLellan and Brigadier Monro concluded, had a negative impact on the mental stability of the inmates, many of whom were described as vulnerable.
Food, toilets and quality of life
Brigadier Monro said basic adequacies for living were not being provided at all times at the prison. Prisoners at Cornton Vale are located in different units across the prison campus, but inmates all receive their meals at a central location. As a result, when they returned to their own units to eat the meals, they were often cold.
Some of the units where the prisoners lived were also highly criticised, with one condemned as "not fit for purpose". The system where prisoners go to the toilet was also highlighted by Brigadier Monro. He said inmates sometimes had to wait two hours before they had access to a toilet, with some saying they couldn't wait that long so they used their sink instead.
Court appearances
When male prisoners have to travel to courts a substantial distance from their jail, they are relocated temporarily to nearby jails. With Cornton Vale being Scotland's only female prison, all prisoners are taken to and from the courts where they are appearing – even if they are hundreds of miles away.
On some occasions, the prisoners are away from their cells for up to 14 hours and rarely have an opportunity to eat a proper meal, while prisoners who rely on methadone rarely have the opportunity to get their dose.
Health Centre and Mother and Babies
The report urged the creation of purpose-built units for a health centre, in particular for patients with mental health issues, and an increase for dental care after the report highlighted a waiting list of 16 weeks for the dentist. Mothers who have babies in the prison should also, the report advised, have the opportunity to spend time with their children in private and not surrounded by other prisoners.
Management
The current Governor - Teresa Medhurst - has only been in her post for a few months. When the inspection was carried out in September last year, she was the third governor at the jail in the past 14 months. Brigadier Monro stated the prison was "suffering from a lack of strategic attention", while Cornton Vale "lacks a sense of purpose from the highest levels".
Conclusions
Brigadier Monro commended the members of staff who currently work at the prison in what he described as difficult conditions. He also concluded that prisoners feel safe in the Cornton Vale, and praised the induction arrangements to help the women adapt to prison life.