Terrorist suffered miscarriage of justice
Three judges examining the appeal of Mohammed Atif Siddique criticised the trial judge for misdirecting a jury.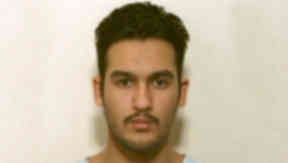 An appeal court has ruled that a student who was convicted of being Scotland's first Islamist terrorist was the victim of a miscarriage of justice.
On Friday, three judges concluded that Lord Carloway, the judge in Mohammed Atif Siddique's trial in 2007, had misdirected the jury. The Crown has now been given until a week on Tuesday to decide whether they will seek a fresh prosecution.
Under Scots Law the conviction will technically remain in place until then. Siddique, however, was remanded in custody after the Crown opposed a defence application for bail at the Court of Criminal Appeal in Edinburgh.
Outside court, members of family hugged and wiped tears from their eyes. Earlier, lawyers acting for Siddique said terror-related material found on his laptop was "mere propaganda".
The 24-year-old British-born Muslim student, from Alva in Clackmannanshire, was jailed for eight years for a string of terrorism offences in October 2007, which included possessing bomb-making instructions. Siddique was found guilty of three breaches of the Terrorism Acts and a breach of the peace.
The offences were said to have been committed between March 2003 and the day police raided his home in April 2006. He was stopped by anti-terror police at Glasgow Airport en route to Pakistan and he was charged days later after his laptop was seized and his home searched by officers. Evidence found included religious texts from the Koran, messages from al-Quaida and praise for "martyrs" in Iraq.
The trial in Glasgow in October 2007 heard that Siddique told fellow students that he sympathised with al-Quaida, wanted to become a suicide bomber and that his target would be central Glasgow. He also shocked classmates at the city's Metropolitan College with horror pictures of terrorist beheadings.
Siddique also set up websites urging others to commit terror acts and showing how to make and use explosives. His activities were halted, the trial heard, by a police dawn raid on the Siddique family home in Myretoungate.
Throughout  the case Siddique has protested his innocence, claiming that when he downloaded material from the internet he was motivated only by curiosity. He denied he was planning any terrorist attack.
Friday's ruling by Lord Osborne, sitting with Lords Reed and Clarke, criticises the way trial judge Lord Carloway explained the main Terrorist Act charge to the jury.
Giving the Appeal Court's decision, Lord Osborne said they "amount to a material misdirection". "In our opinion (this) amounts to a miscarriage of justice," Lord Osborne added.
Siddique's father, also Mohammed Siddique, and mother, Parveen Siddique, left after the hearing with solicitor Aamer Anwar. Mr Anwar said in the light of the decision to give the Crown until February 9 to decide whether they wanted a re-trial, there could be no further statement.