SPT chief stands down
The resignation on health grounds of Alistair Watson, who is embroiled in an expenses row, has been confirmed.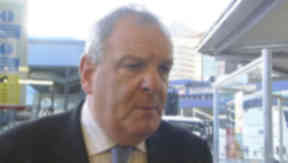 The chairman of Scotland's largest transport partnership has stood down from his post.
Alistair Watson has resigned from his role at Strathclyde Partnership for Transport (SPT) on health grounds, a spokeswoman for the organisation confirmed.
The resignation comes after reports raised questions about expenses claims of senior executives at the public body.  Newspaper reports said documents obtained under the Freedom of Information Act showed a handful of top officials, including Mr Watson, had claimed £117,573 in the three years between 2006 and 2009.
That was said to include £49,195 incurred on overseas trips at public expense. An SPT spokeswoman confirmed that Mr Watson had now stood down. She said: "He has resigned on health grounds. That was with effect from today."
The public spending watchdog Audit Scotland confirmed yesterday it has received a complaint about SPT. A spokeswoman said: "We have alerted KPMG, which carries out audits of SPT, to the complaint. We will review the issues raised to establish whether further investigation is warranted."
A SPT spokeswoman said yesterday that Mr Watson was "well-respected as a transport expert" and added that his "extensive knowledge of the transport industry will be sorely missed by the organisation".
The question of Mr Watson's replacement is due to be discussed at partnership meeting on February 26.