20,000 homes hit by power cuts
'Worst conditions of the entire winter' leave thousands without power as engineers battle to restore services.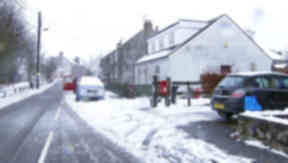 Power cuts have affected around 20,000 homes across Scotland after winter weather returned in force, affecting power lines and causing transmission problems.
Many houses were without power only briefly. However, around 7,000 homes in North Ayrshire, particularly in Largs and Fairlie, were without power for some time. Around 1000 are still without power. 150 homes in Kinbuck, near Dunblane, are also affected.
Sheelagh MacDonald, who is one of the Kinbuck residents without power, told STV News that her house, like others in the area, have suffered several power outages already this year.
She said: "We have had quite a lot of power cuts. Four days was the longest. We have not had any information from the power company. I have a wee stove so I am luckier than some. It is a bit of a bother but I can cope."
The power outages also affected homes in Ayrshire. Frank Mitchell, director of ScottishPower Energy Networks, said: "Just when we thought we were heading into summer, we have actually experienced some of the worst weather conditions of the entire winter.
"The combination of high winds, ice and snow has been particularly bad in certain areas and has had a major impact on the electricity network today, specifically in North Ayrshire.
"This winter has been longer and more severe than most in recent times. We had more than 500 engineers on call over Christmas and New Year and we will have the same again on stand-by over tonight and tomorrow.
"Although we have fixed the majority of faults today, the weather forecast for the next 24 hours is for more high winds, sleet and snow, so our engineers remain on high alert for potential problems."
Last month, as the big freeze gripped Scotland and the rest of the UK, around 45,000 homes across Scotland were left without power as snow blanketed parts of the country and downed overhead power lines.
The problems were centred in an area south-west of Perth, including Gleneagles and Blackford. Thousands of houses in the Highland were are also without power.