Children to no longer be detained overnight at Dungavel
Youngsters will no longer he held at Lanarkshire immigration removal centre.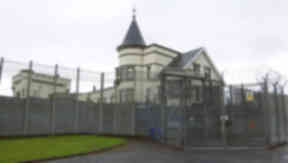 Children will no longer be detained overnight at Dungavel immigration removal centre with immediate effect.
Families detained north of the border may undergo initial health and welfare screening at Dungavel in Lanarkshire but would then be moved to Yarl's Wood immigration removal centre in Bedfordshire, which has specialist family and child facilities and support services.
The announcement comes after the Scottish Government criticised the continuing detention of children at Dungavel.
The coalition deal between the Tories and the Liberal Democrats, which was agreed last week, includes a commitment to end the detention of children in the UK.
On Tuesday, Scottish Education Secretary Mike Russell wrote to new Home Secretary Theresa May outlining his "strong concerns" when it emerged that a woman and her eight-month-old daughter were locked up in Dungavel Immigration Removal Centre.
Immigration Minister Damian Green said that the practice would now end in Scotland.
He said: "I am announcing that, with immediate effect, children will no longer be detained overnight at Dungavel Immigration Removal Centre.
"This is something which many groups in Scotland have been calling for, and we are now delivering this positive outcome.
"We are committed to ending the detention of all children for immigration purposes. I hope that we can have plans agreed within the next few months."
The woman and her baby daughter are being moved to Yarl's Wood.
Mr Green last week announced a review of the alternatives to detention for children of failed asylum families. The UK Border Agency is already working with the Scottish Government, Glasgow City Council, and the voluntary sector to establish alternatives to detention.
Mr Green said: "I have already announced the launch of a comprehensive review of alternatives to child detention, including opening a dialogue with relevant stakeholders, organisations and experts.
"This work has now started, because it is in all our interests, including those children currently in detention, to do it quickly, but to also do it well and safely."