Debate over housing estate portrayal on 'The Scheme'
A new documentary series has been blasted for giving a 'misleading impression' of life in one Ayrshire community.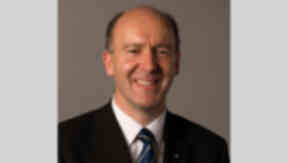 A new documentary series, branded Scotland's Shameless, has sparked debate over its portrayal of life on Scotland's housing estates.
 
The Scheme, which aired for the first time on the BBC on Tuesday, documents life on Onthank, an Ayrshire housing estate. The series producers gained intimate access to six families living on the estate with the aim of capturing the highs and lows of life there over the course of four episodes.
 
However, following the screening of an unarguably bleak first episode, local officials have expressed concern over how the estate's reputation will be affected. A large scale regeneration effort is under way in the area and MSPs insist that while there are problems, it would be wrong to portray Onthank's residents as a group living entirely on the edge.
The first episode of the series focussed on three households. They included a single mum who regularly opens her doors to those with nowhere to go, and a reformed heroin addict, Marvin Baird, who revealed he was desperate to stay on the straight and narrow and start a family with his former girlfriend, who had been released from prison and was trying to kick her drug habit using methadone treatment.
 
The third group were the Cunninghams, a well-known family with more than 30 members living on the estate.
 
The Scheme's makers focussed on one household, headed up by reformed alcoholic, Gordon, and and his partner, Annie. In his younger days, Gordon had been in and out of prison, leaving Annie to raise their five children. Now, with three of their children now out of the family home, the programme followed Gordon and Annie's efforts to prevent their children from repeating their mistakes.
 
Younger son Chris, who described his life as being about hanging around, drinking and taking drugs, insisted: "There's nothing else to do except go out and get wrecked. That's about it." His family were later seen discussing a threat to the 20-year-old from a drug dealer, apparently owed £400 for cocaine.
 
In another scene, a worried Gordon and Annie went to Kilmarnock Sheriff Court to watch their elder son, Bryan, admit to a racially aggravated breach of the peace.
 
He admits he got drunk, took a valium, and caused a racially motivated disturbance in a post office, however, his family believes the shopkeeper has lied about Bryan's actions.
 
After Bryan is jailed for eight months, a sobbing Annie tells the cameras: "He got eight month. They gave him 12 months and reduced it to eight because he pleaded guilty. I thought he was going to let him out, you know. The lawyer spoke great for him. But he says there comes a time... and cause it's racial."
 
An equally distressed Gordon adds: "He gave him the whack for it. He gave him the full whack. Four month off cause he plead guilty straight away. He'll do four out of it."
 
The programme makers say that later episodes will focus more on the efforts to regenerate Onthank.
 
However, some local residents have expressed concern that the programme will lead to everyone being portrayed as living a bleak, breadline existence.
Local MSP Willie Coffey blasted the programme for a lack of balance. He told STV News: "The danger with programmes like this is that they give a misleading impression of an entire community. Featuring the chaotic lifestyles of one or two families might make for interesting TV but it does nothing to support the positive regeneration that has been going on in this community for the past few years.
"Local people are angry about this and how our community is being painted by these film makers.
"As an Onthank boy myself I know from experience how warm the local people are here. When my family suffered two tragic losses in a matter of a few weeks only four years ago, they were first in line to offer help and encouragement and show their support. I will never forget that and it's an honour for me to represent Onthank in the Scottish Parliament and on the local Council."
 
Newly elected local MP, Cathy Jamieson, has also insisted that while there are problems in the area, it has a strong community spirit and a lot of hard-working families.
Mr Coffey added: "I certainly hope to see some improvement and balance in the story lines that truly reflect the generosity and spirit of the people of Onthank."