New Lanark 'ghost' captured on CCTV
VIDEO: Security camera captures ghostly image at historic village.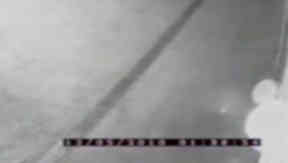 **Staff at the New Lanark Mill Hotel are convinced the image of a ghost has been caught on CCTV.
**
A number of sightings have been reported over the years at the New Lanark World Heritage site in the Clyde Valley, but there has so far been no evidence to back up witnesses' claims.
But CCTV footage of the hotel's rear car park captures an image that staff are convinced is in fact a ghost.
General Manager John Stirrat said: "We were routinely reviewing CCTV footage taken in the early hours of May 12 in our rear car park, an area that was formerly stables. Between 0130 and 0300 in the morning, we were startled to see, quite clearly, a mysterious ghostly shape in the bottom right-hand corner of the screen which came and went.
"At one point it disappears through a door, without opening it, and reappears. No staff, guests or members of the public were outside at the time, so it is definitely not human nor a trick of the light."
The camera is looking downwards from the top right corner of the hotel and shows a small bright figure, about four feet high, possibly a child. Dressed in luminous white, it is seen bending and nodding before becoming motionless for a while. It then becomes more agitated and appears to change position by jumping onto a higher level. During the footage a number of bright surreal flashes can be seen.
Mr Stirrat added: "It is the strangest, eeriest thing I have ever seen,"
"It makes the hair on the back of your neck stand up.
"We were very fortunate to capture it on screen and it has caused considerable debate here in the village. Originally I was sceptical about ghosts but now, after reviewing the footage again and again, I'm not so sure."
New Lanark is a restored cotton mill village on the River Clyde. It was founded in 1785 and is now a World Heritage site. Once Britain's largest cotton manufacturing centre, the village rose to fame as a model community under social reformer and philanthropist Robert Owen.
The mill operated until the late 1960s and was restored in subsequent years and is now a major tourist attraction and is one of only five UNESCO World Heritage sites in Scotland. As well as a visitor centre and hotel, the village is home to around 200 people.
What do you think the video shows? Let us know using the comments box below.