Boy who drowned in Glasgow river was trying to rescue a pal
UPDATE: 13-year-old Declan Shanley was swept away by current in River Kelvin after friend fell into the water.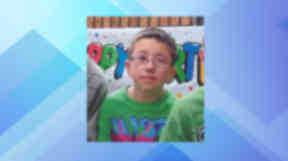 A 13-year-old boy who drowned in the River Kelvin in Glasgow jumped into the water to try to rescue a friend.
Declan Shanley of Craigbo Street, Summerston, Glasgow, was playing with friends on the banks of the river, near to the West of Scotland Science Park, when one of the group fell into the water at around 6.30pm on Saturday.
Declan and another friend jumped into the water to try and rescue their friend but Declan was swept away by the current.
Both of Declan's friends managed to get back to the shore and emergency services were called.
An extensive search and rescue operation was mounted along the banks of the River Kelvin, involving police officers, the Strathclyde Police helicopter and Strathclyde Fire and Rescue who entered the water.
Declan - who was due to celebrate his birthday on Wednesday - was found in the river just before 8.30pm. He was immediately taken by ambulance to the Western Infirmary but unfortunately, was found to be dead on arrival.
Chief Inspector Grahame Clarke of Strathclyde Police, said: "This was a tragic accident. Declan had been out all day with his friends playing by the sandy area, known locally as 'the beach'.
"They had all been in the shallow water, but one of the children fell into the deeper water and got into difficulty. Declan and one of his friends jumped in to help, but Declan got into difficulty and was swept away by the strong current.
"Declan was a very brave wee boy, who died trying to rescue his friend."
No one else was injured, although all the children are extremely upset by what has happened.
Chief Inspector Clarke also issued a warning about the dangers of playing in rivers. "Water can be enticing and fun, especially on a warm day, but it can be dangerous even if you are a good swimmer. We would advise anyone not to go into the water unsupervised.
"I would also urge all parents to make sure their children are warned about the dangers of playing near or in water. We would not want another family to go through what the Shanley family are going through just now."
A report on the incident will be submitted to the Procurator Fiscal.