Arandora Star survivor: 'I could see heads bobbing up and down'
VIDEO: Last Scots survivor remembers night 805 lives were lost as U-boat sunk ship carrying British Italians.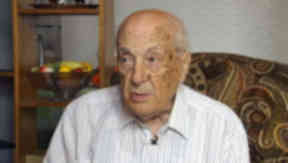 Scots Italian families will pause on Friday to remember one of their community's darkest moments of the Second World War.
70 years ago today, the Arandora Star, carrying thousands of Italians, Germans and other 'aliens of the state' on a voyage from Liverpool to Canada, was sunk by a German U-boat near the coast of Ireland. According to figures from Blue Star Line - who operated the ship - 805 people died out of the 1,673 on board, including 470 Italians.
Those on the Arandora Star were being transported out of the UK by a government worried of an inside threat, after Italy's declaration of war on Britain a month earlier. While some on the ship were hard line fascists and Germans who had been fighting against the British, many were Italians whose only crime was to share a nationality with the crazed dictator Mussolini.
One of them was 90-year-old Rando Bertoia, who is the last Scots Italian survivor of the tragedy. On June 11, 1940 - a day after Italy declared war on the UK - 20-year-old Rando and his family were taken away from their home in the Gorbals area of Glasgow to a police station.
From there they were taken to a camp in Milton Bridge, outside Edinburgh. While his family remained, Rando was later moved to Liverpool. On July 2, he boarded the Arandora Star. He was sleeping on the deck when the torpedo struck a few hours later.
He told STV News: "It was 6am and I was half-dazed. I heard a thump but I didn't know what it was, but friends knew what it was. We managed to jump into a lifeboat. After that, I could see all the wee heads bobbing up and down, and saw the ship going down. A terrible site. Everything was quiet after that. It was eerie."
IN DETAIL
Rando was picked up with other survivors and was taken back to the UK by a Canadian ship. When a roll call of survivors was read out, Rando realised he had lost a cousin in the sinking. The 20-year-old ended up in Greenock before he was forced to board another ship. Incredibly, this ship was also torpedoed -  but the shell never went off.
Rando remembers: "We heard this bang. We thought, uh oh that is us finished now. Apparently, it struck and didn't explode. We were in our living quarters at the time. Second by second, we were just waiting for the water to come in. Half a minute, a minute passed. Nothing happened. A soldier came through and said we were all clear."
Rando spent the remainder of the war in an internment camp in Australia, where he was treated "very well". But how does he feel about his deportation and imprisonment?
"I feel a tinge of shame that Italy declared war on Britain. Some Italians here blame the British for sending out a ship (the Arandora Star). I can't see that. Britain was trying to defend herself and we were enemies inside Britain. They thought they better send us away as we would pose a security risk."
Quiet Life
After the war, Rando returned to Glasgow and worked with his brother at the Victoria Watchmakers shop in Glasgow's south side. He retired at the age of 85 and now enjoys a quiet life in his home in the same area of the city.
"It was a big milestone of my life," he concluded. "After all, it was just by luck that I was saved. A lot of people were drowned. I was put into a boat, otherwise I would have been away."
On Friday, Rando will attend a special ceremony at the Italian Cloister Garden, which is currently under construction at St Andrew's Cathedral in Glasgow. Once the garden is finished this coming winter, it will serve as a permanent memorial to all those who were lost on the Arandora Star.
A requiem mass will also be held on Friday in St Mary's Cathedral in Edinburgh to mark the anniversary.