Son of wartime tragedy survivor traces relatives of victims
VIDEO: Bombing of army camp in Cornwall in 1940 claimed the lives of 22 men from a Scottish-based regiment.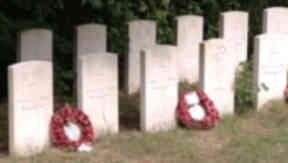 **It was a lesser known tragedy of the Second World War. Seventy years ago this week, 22 men from a Scottish-based regiment were killed on home soil just weeks after escaping the beaches of Dunkirk. **
After learning that his father survived the German bombing, Stuart Gray set about trying to find all the relatives of those who died.
Stuart Gray's father, Andrew rarely spoke of his wartime experiences with the 58th light anti-aircraft regiment. When Stuart discovered, after his dad's death, that the unit suffered heavy losses at an army camp in Cornwall, he had to find out more.
He said: "Here were 22 men who were tragically killed after surviving Dunkirk and Calais and there was nothing. As it turned out, most of the relatives didn't know a thing about it. I think it's saved a little bit of history."
In the Cornish village of Perranporth, there are few left who remember July 7 1940.
Eyewitness May Jenkins said: "I heard a plane and it was like a black unusual plane. I thought it was dropping like turfs of earth, one, two, three and the next minute, boom. The birds flew up, the dust flew up and I just looked and thought 'it's the camp.'"
Memories remain just as vivid for the last known living survivor. 
Stuart Gray said: "Gunner Bill Moffat, he is 92 and he lives in Sheffield. He attended the funeral and he remembers a lone piper in full regalia, so where they got him from I don't know."
Telegrams sent to loved ones only stated that the soldiers had died as a result of enemy actions. Searching from Buckie to Birkenhead, Stuart traced all but four of the men's families. Those untraced are linked to Wales and Nottingham.
With the final remembrance service in Cornwall approaching, among those now able to attend are the relatives of Gunner Alexander Keenan from Dunbartonshire. Janet Keeley was nine years old when her brother was killed. 
She said: "The last time I remember him was when he told me that he was going and that he'd had his call up papers. He went away and I followed him to the shops, he turned and waved and that was the last."
Isabel Stewart, Alexander Keenan's niece, said: "It does mean a lot, yes. Nobody from the family has ever been down before, we didn't really know where he was buried. At least my mother now knows where he is and can see the grave and say goodbye."
After 70 years, the hope is that 21 other families will also be able to do the same.