Trampoline man gets probation over solo sex romp
James Burden had 'a cigarette in one hand and his manhood in the other'.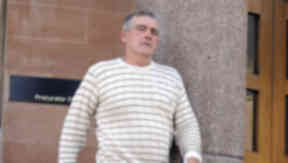 A man who performed a solo sex act on a trampoline in the early hours of the morning has been put on probation.
James Burden was spotted by a female neighbour as she got up to go to the bathroom at 5am on March 25 this year. She told police Burden, 55, had "a cigarette in one hand and his manhood in the other".
Falkirk Sheriff Court heard Burden was arrested and charged with shameless indecency. Mike McMahon, prosecuting, said the woman, who lives in a block of four flats in Westquarter, Falkirk saw Burden in the back garden.
The depute fiscal said she "described him as being as bold as brass and purposeful" when carrying out his aerial solo sex act. She then saw Burden look at her window and approach the back door of the block of flats, so she rushed into her living room and called the police.
When he was asked by police officers why he did it, Burden told officers: "Just for the thrill of it." Burden, of Yew Terrace, Westquarter, Falkirk, pleaded guilty to a single charge of publicly exposing himself in a shameless and indecent manner, and approaching his neighbour's house and placing the occupant in a state of fear and alarm.
Burden had appeared for sentencing at Falkirk Sheriff Court earlier this month and surprised Sheriff Craig Caldwell by trying to withdraw his plea. Gordon Addison, defending, said his client now claimed to have "only pled guilty to avoid the embarrassment of a trial".
Mr Addison added that because of his intention to try to change his plea to "not guilty", Burden had not attended for a meeting with a social worker and a psychologist, as instructed by the court, for the preparation of background reports. Sheriff Craig Caldwell refused to allow Burden to withdraw his guilty plea, saying he had confirmed it in court after months of legal advice.
On Thursday, Sheriff William Gallacher put Burden on probation for a period of three years and warned if he didn't comply with the order he may be "removed from the community."
He said: "I have read the reports and you will be provided with the support that you need, and it is essential the community is not faced with this sort of behaviour again. Breach the probation in any way and you may be removed from the community".