Glasgow's top 50 buildings to be decided in online poll
The Mackintosh Society hope the initiative will boost tourism in the city as well as celebrate its culture and heritage.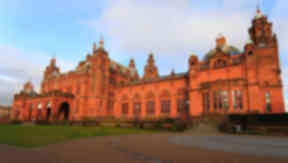 Glaswegians have been offered the chance to vote for their favourite building in the city.
The Mackintosh Society, who promote work of Charles Rennie Mackintosh, are looking for people to nominate their top 50 buildings. Neil Baxter, secretary and treasurer of the Royal Incorporation of Architects in Scotland, said the search is "deeper" than just a celebration of the usual suspects, such as the Kelvingrove Art Gallery or the Glasgow School of Art.
Mr Baxter told STV News: "Any list of Glasgow buildings has Kelvingrove, Glasgow Cathedral, the City Chambers, and the School of Art right up to the top.
"But we are looking for a list of 50, so we are going to have to explore the city's architecture rather more deeply and really look for buildings that people are intrigued by, fascinated by and that stand out as the buildings that can represent the city of Glasgow on the world stage."
The initiative is led by the Mackintosh Heritage Group, working in partnership with key heritage organisations, Glasgow City Council, Historic Scotland and Scottish Enterprise. Glaswegians are being asked to log on to www.glasgowlandmarks.org.uk to make their nominations.
Mr Baxter added: "The Glasgow Landmark Scheme, following from Chicago's long established landmark scheme, is looking to list initially the best 50 buildings in the city of Glasgow. We want the best buildings in terms of their architecture, old or new, and of social and historical importance and relevance.
"These are buildings that people will want to visit and for which we will provide guidance online and trail guides. It is a new tourism drive for the city of Glasgow, using the well-established magnificent buildings - the assets of the city."
What do you want to be in the Top 50? To see our thoughts, check out the picture gallery