Tributes paid after death of shipyard leader Jimmy Reid
The Scots journalist, who led the fight against Glasgow's shipyard closures, passed away overnight.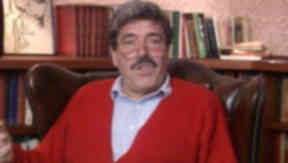 Tributes were paid this morning to Scots journalist and ex-trade union activist Jimmy Reid, who died on Tuesday night.
The 78-year-old, who led the campaign against the closure of Glasgow's shipyards in the 1970s, passed away at Inverclyde Royal hospital in Greenock at 9pm after falling ill at the weekend.
Mr Reid, who had been in poor health for a number of years, leaves behind a wife, Joan, and three daughters, Eileen, Shona and Julie.
On Wednesday, former colleagues, activists and political leaders from across the Scottish spectrum said they were in mourning, describing him variously as an "iconic figure" a "great Scot " and a "humourous and generous human being".
Mr Reid shot to prominence in the 1970s when he led efforts to save the Upper Clyde Shipbuilders, which was under threat of closure. Reid and his colleagues Jimmy Airlie and Sammy Barr decided to stage a work-in to prove the viability of the yards and received widespread support from across the globe, eventually managing to pressure the Government into saving two of the five threatened yards and selling off another.
A lifelong socialist, Reid went on to become a renowned journalist and broadcaster, helping to establish the 'Scottish Left Review' publication in 2000.
On Wednesday morning, his former colleagues at the magazine paid tribute to Mr Reid.
Associate Editor and long-time friend Bob Thomson said: "Jimmy Reid was a courageous and steadfast fighter for working people and their families. At The UCS work-in he proved that organised workers could defeat an unthinking government and uncaring big business.
"A self-taught intellectual and philosopher, he did not curry favour or seek self-advancement. He told the truth, often at great cost to himself.
"A lifelong socialist, he argued eloquently and passionately against the insanity of the capitalist system which once again has caused a major recession where the many will pay for the greed of a few.
"In 1972 in his inaugural speech as Rector of Glasgow University he famously said "The rat race is for rats". He believed humankind could create a fairer, more compassionate and better society.
"We have lost a great Scot and a true internationalist".
Politics
Mr Reid had stood as a political candidate for both the Communist Party and the Labour Party. However, in 1997, he lost faith in Labour and urged people to vote for the SNP or SSP instead. In 2005, it was revealed he had joined the SNP.
On Wednesday, First Minister Alex Salmond paid tribute, saying: "Jimmy Reid was Clyde-built."
He SNP leader continued: "He has been Scotland's great rallying figure over the last four decades and was one of the few Scottish political figures who can genuinely say that they provoked real change for the better in society - always addressing both a Scottish and international audience.
"Above all, Jimmy was a warm, humorous and generous human being."
The SNP leader said Mr Reid became a "much-loved figure" at conferences after finding his "lasting political home" in the party.
"Jimmy will be missed not just across the political spectrum, but throughout Scotland's national life," Mr Salmond added.
Meanwhile, Veteran left-wing politician Tony Benn, who addressed workers during the 1970s work-in, described Mr Reid as a "great figure of the labour movement".
The former Labour energy secretary told Radio Scotland: "He built a really powerful and proud and self-confident group of people who decided to take over the yard and make it work.
"In the end, it came to a conclusion and the yard did continue. I haven't seen him for a year or two but I'm very sad to hear that he has gone."
Scottish Labour Party leader Iain Gray described Mr Reid as an "iconic figure".
He said: "His Rectorial Address at Glasgow University, published in full on the cover of the New York Times, was one of the finest political speeches of the 1970s.
"His rhetorical rejection of the 'rat race' and his call to the higher principles of our common humanity has not faded, but rings louder, as the years pass.
"Scotland will miss his voice, his testament to the worst and the best of our recent past and his hope for our future."
IN DETAIL