Jimmy Reid's speech to Glasgow University
Video of an extract of the speech that was described as "the greatest speech since President Lincoln's Gettysburg Address."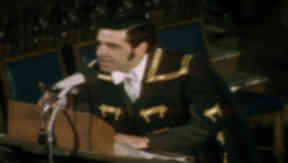 In 1971 on the back of his trade union activities, Jimmy Reid was elected rector of Glasgow University, giving a speech which has become known as one of the greatest ever given in the country.
At the same time, Mr Reid was a member of the Communist Party of Great Britain, serving as a councillor in Clydebank and standing for Westminster election in 1974.
A key passage of the speech exists on video, Mr Reid telling those present: "A rat race is for rats. We're not rats. We're human beings. Reject the insidious pressures in society that would blunt your critical faculties to all that is happening around you, that would caution silence in the face of injustice lest you jeopardise your chances of promotion and self-advancement.
"This is how it starts, and, before you know where you are, you're a fully paid-up member of the rat pack. The price is too high."
The New York Times printed the speech and described it as "the greatest speech since President Lincoln's Gettysburg Address."
Reid, an engineer to trade, had become a union official and shot to prominence in the 1970s when he led the famous Upper Glasgow Shipbuilders work-in. The firm was formed from the amalgamation of five major firms on the Clyde in 1968.
But by 1971, only one of the original companies remained profitable and the company went into administration. The Government, headed by Conservative Edward Heath, refused to save the firm with a £6m loan. Reid, along with his shop steward colleagues, set about organising an action against the closure. But instead of staging a strike, they decided to demonstrate the viability of the yard by staging a "work-in" and completing their existing contracts.
Their actions attracted support from around the globe, and the decision by the government in 1972 to relent was seen as a major victory in ensuring the survival of the shipyards on the Clyde.
IN DETAIL