Rangers fans praised after Champions League game in Manchester
Greater Manchester Police said both Rangers and Manchester United fans acted responsibly, with only 10 arrests made for minor offences.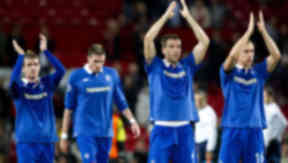 Police have praised Rangers fans following the club's match with Manchester United in the Champions League.
Supporters of the Scottish champions returned to the city on Tuesday night for the first time since an estimated 125,000 fans, most without tickets, descended from Scotland two years ago for the Uefa Cup final against Zenit St Petersburg from Russia. On that occasion, many spent the day drinking and trouble erupted in a fan zone after a giant screen in Piccadilly Gardens failed close to kick-off time.
Officers were subsequently attacked and hundreds of thousands of pounds worth of damage was caused. When Rangers were drawn to play Manchester United in the Champions League a few weeks ago, the clubs, Strathclyde Police and Greater Manchester Police formulated a plan to prevent a repeat of that shameful night for Scottish football.
Thankfully, on Wednesday morning, police in Manchester confirmed there had been no trouble. Ten arrests were made throughout the evening for offences such as being drunk and disorderly, a public order offence and ticket touting. Five of these were from Rangers while the other five were fans of the English giants.
Assistant Chief Constable Ian Hopkins, from Greater Manchester Police (GMP), said: "We had a considered plan to work with both clubs and it has worked well. The night has shown the fans in a really good light. The supporters responded positively and many of them complemented GMP and the clubs on the handling of the operation.
"Given the limited number of arrests for fairly minor offences it reiterates the fact that most acted responsibly and are genuine fans. Clearly, people heeded our advice not to travel without tickets and, as a result, Manchester city centre was very quiet - one of the aims of our operation."
Up to 3,500 Rangers fans travelled by coach to the match and were put in a holding zone at Wigan Athletic's DW Stadium before the game. They were handed their tickets during an escorted transfer to Old Trafford and were then bussed back outside the city after the match.
Tuesday night's game finished 0-0 following a dogged defensive display from Walter Smith's Scottish champions.
IN DETAIL